How to Become a Yacht Captain
Authors

Name

Patrick Maflin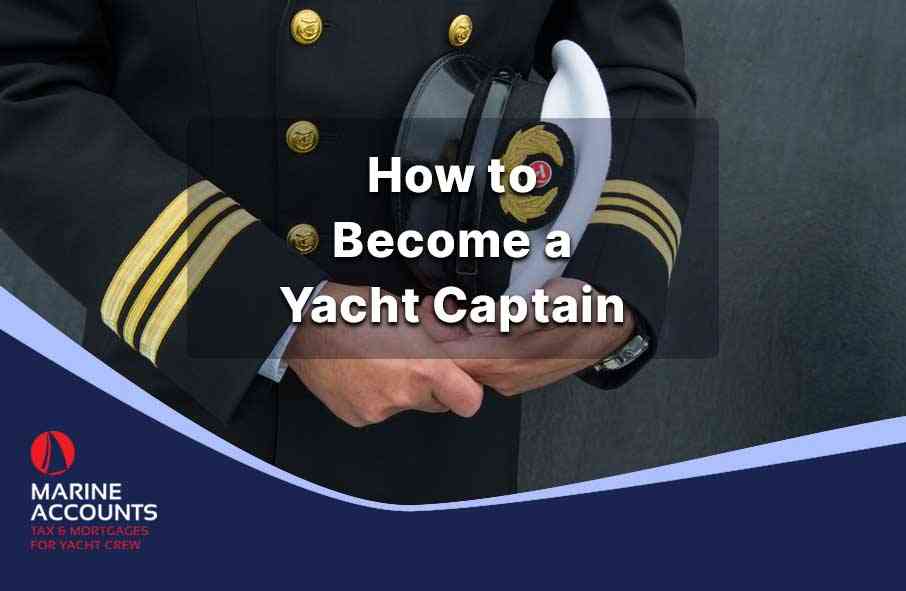 Working as a captain on a superyacht can be a very rewarding career.
Being at the helm of a yacht and having ultimate responsibility over its operation is however not a role for everyone or anyone.
The captain will need to have various high level skills as this is an all-encompassing role.
However if you feel that this could be your career path, then we invite you to read through this article to learn how to become a yacht captain.
---
Chapters
---
What Does a Yacht Captain Typically Do?
A yacht captain operates the yacht to ensure the navigation is carried out in a safe and efficient way.
The captain takes care of voyage planning, while ensuring the vessel adheres to all relevant international maritime regulations.
The yacht will need to be prepared for annual class and flag surveys, and these will need to be overseen by the captain.
Additionally, all vessel documentation will need to be kept in good order.
The captain will also be responsible for crew members, as well as ensuring the owners and any guests onboard are safe.
When it comes to yacht crew members, the captain has a direct role in hiring and appraising, as well as any dismissals.
They will need to ensure the crew is suitably trained and qualified for their respective roles.
The yacht captain is essentially the leader of the crew, and hence will need to act as such.
They will have both crew management as well as administration responsibilities to handle, on top of navigational duties.
A yacht captain will also have the responsibility of setting budgets and overseeing what's being spent.
They will also be responsible for the maintenance of the yacht, as well as any refits and surveys that need to be carried out.
Understandably, the role of a yacht captain varies slightly depending on the size of the vessel and its function.
In the case of captains on relatively small yachts, the role is generally more diverse, and often the captain will need to be a great multitasker and problem solver.
On relatively large vessels however, there'll be a dedicated crew to take care of other jobs.
So the captain will be able to delegate certain tasks to key personnel and focus more on their own responsibilities.
Required Skills
A yacht captain should possess a series of soft and hard skills to be successful in the role.
These are some of the most important skills a yacht captain will require:
Great leadership skills
Managerial skills
Navigational and yacht handling skills
Organisational and administration skills
Knowledge of pertinent legislation and environmental regulations
Engineering knowledge
Very good communication and interpersonal skills
Have a calm demeanour and charisma
Be a good multitasker
Required Certification & Qualifications
There are a number of certificates and qualifications which are mandatory for a yacht captain to have.
STCW Basic Safety Training
The STCW Basic Safety Training course is a must for anyone working onboard a sea vessel.
During this course, first aid practices, personal safety and social responsibility are some of the areas that are tackled.
Training on sea survival and how to respond to emergencies are other key areas of this course.
It typically lasts around 5 days, and has to be renewed periodically.
Efficient Deck Hand Course (EDH)
The Efficient Deck Hand is a course which revolves around basic seamanship.
It includes safe working practices on board a sea vessel, along with rope, wirework, painting and other key maintenance routines.
This course usually lasts around 5 days.
Royal Yachting Association (RYA) Certification
The RYA Certification is another must have.
The Royal Yachting Association is an organisation which issues the RYA Certificate, along with other certifications such as the Powerboat Handling, Yachtmaster Offshore and Yachtmaster Ocean.
ENG1 Medical Certificate
The ENG1 Medical Certificate certifies that one is fit and in good health to work onboard a sea vessel.
This is issued after a routine medical examination with a physician.
Additional Education & Training
The courses and certifications mentioned above are practically a must for one to be considered for the role of a yacht captain.
There are however various other courses which one may wish to follow to improve their chances of getting such a job, or becoming more experienced over time.
Officer of the Watch (OOW)
This is a specialised course which enables one to become an officer onboard a vessel of up to 3000gt.
However, in order to apply for the Officer of the Watch course, one would need to have achieved the RYA certificate for at least 36 months, as well as have over 250 days of experience onboard a sea vessel.
The MCA training record book will also need to be completed.
MCA Master 500 Certification
The MCA Master 500 yachts is a course which is highly recommended for someone who already has relevant experience on board, but wishes to increase their chances of moving up the ranks.
Once the certificate of competence has been issued for OOW, and a further 12 months have passed, coupled up with another 120 days of verified sea service, one will be able to achieve certification.
Master modules which are included during this course include ship stability, navigation, radar simulator, seamanship, meteorology, business and law.
MCA Master 3000 Certification
Finally there is the MCA Master 3000 certification, which consists of an oral exam.
There are oral prep courses which are organised to prepare those who wish to achieve this high level certification.
How to Become a Yacht Captain
In order to become a yacht captain, you'll need to get your first job on board a sea vessel first.
You need to be prepared to start small, and slowly but surely as you gain more experience at sea whilst achieving various qualifications and certifications, improve your chances of becoming a yacht captain.
The following are some steps you will need to follow to get started on this career adventure:
Prepare Your CV (Resume)
You will first need to prepare a good CV which demonstrates who you are, and what you can offer in detail.
Besides the various qualifications you have, make sure to go into detail about any past industry specific experience you had.
Go Dockwalking
Dockwalking is a great way to seek work onboard a yacht or similar sea vessel.
This is the process of visiting popular marinas, and going from one boat to another to search for job opportunities.
Dockwalking speaks volumes about your willingness to learn and graft.
It displays clear evidence that you're willing to take on any work opportunity to become more experienced, and that you are prepared to go the extra mile to work even in a small and seemingly unimportant role.
Some yacht owners will need someone to do the dirty work like scrub the decks, or engage in buffing, sanding and polishing.
The key takeaway here is that every work opportunity matters.
You need to be willing to take on any job that comes your way, as ultimately, every hour that you manage to spend working onboard will add your resume.
Gain Experience
If you want to get into yachting, it's important to gain as much experience as possible.
Any task or job that you're offered onboard a yacht is important, even if it may seem insignificant.
Do not allow day to day tasks to appear irrelevant, as ultimately they all count.
Every job you take can help you to improve your character, whilst building your skillet and experience.
Over time you'll have several opportunities to gain more experience.
The key is to always seek to do your very best.
Whenever possible, aim to over deliver and exceed expectations, as this is what will help you climb the ranks over time.
Typical Yacht Captain Salary
| | | |
| --- | --- | --- |
| Position | Size of Vessel | Salary Range |
| Senior Master | 170ft - 200ft + | $140,000 - $300,000 |
| Captain | 100ft - 170ft + | $85,000 - $170,000 |
| Junior Captain | 60ft - 100ft + | $48,000 - $98,000 |
The salary of a yacht captain depends on a variety of factors.
Whilst the captain's qualifications are a critical factor, their experience will also play a critical role in determining their salary.
The size of the yacht will also need to be factored in as this will have an effect on the role and the responsibilities that the yacht captain has.
Generally speaking, a yacht captain's salary ranges between £5,000 and £15,000 per month.
Conclusion
By now, you should have a much better idea of what you need to become a yacht captain.
Clearly, it's a role that takes many years to fulfil.
But with time, dedication and persistence, you could one day become captain onboard a luxury superyacht.
Besides the various courses that you could enrol on, it's also crucial that you possess the necessary skills and aptitudes which are important for such an important role.
If you're just getting started, it's best to gain as much onboard experience as you can, while also following the relevant courses.
In such cases, dockwalking could be your best place to start.
If however you're close to becoming a yacht captain or have just become one, you may have other issues to consider such as your personal income tax liability from your earnings at sea.
In such cases, you should speak to a tax specialist to determine if you qualify for the seafarers earnings deduction.
If so, your entire salary at sea may be completely tax free.
Contact Marine Accounts to find out if you qualify, or try our residency test to clarify your tax position.
Disclaimer: Any advice in this publication is not intended or written by Marine Accounts to be used by a client or entity for the purpose of (i) avoiding penalties that may be imposed on any taxpayer or (ii) promoting, marketing or recommending to another party matters herein.