ENG 1 Medical Certificate - A Guide for Seafarers
Authors

Name

Patrick Maflin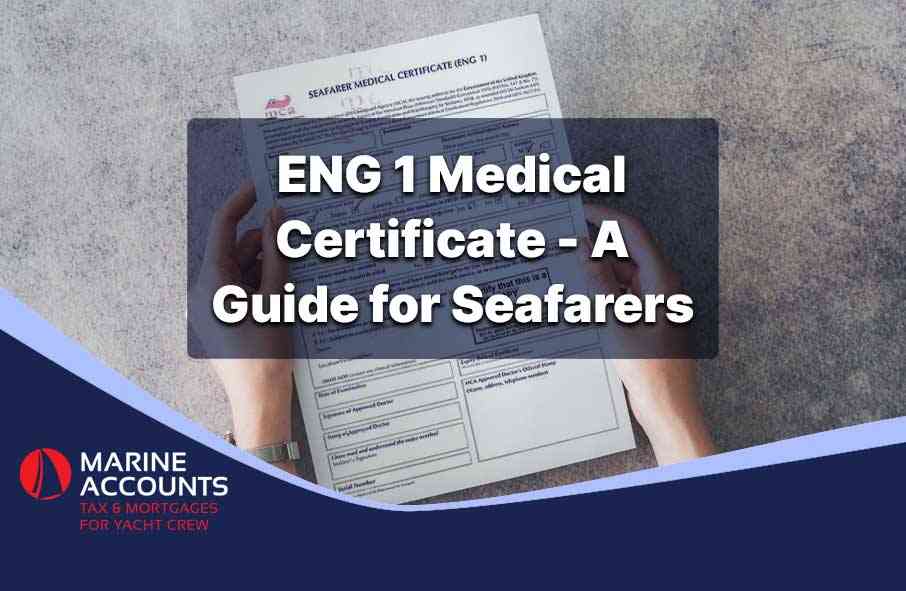 When working at sea, there's always greater health and safety concerns since medical treatment is not going to be readily available in an emergency situation.
Hence, if you are planning to work on a yacht it is important to be aware that you need to have a Medical Fitness Certificate.
This is required in order to prove that you are able to perform your duties at sea, and that you do not suffer from any serious medical conditions that may impede you
---
Chapters
---
What is an ENG 1 Medical Certificate?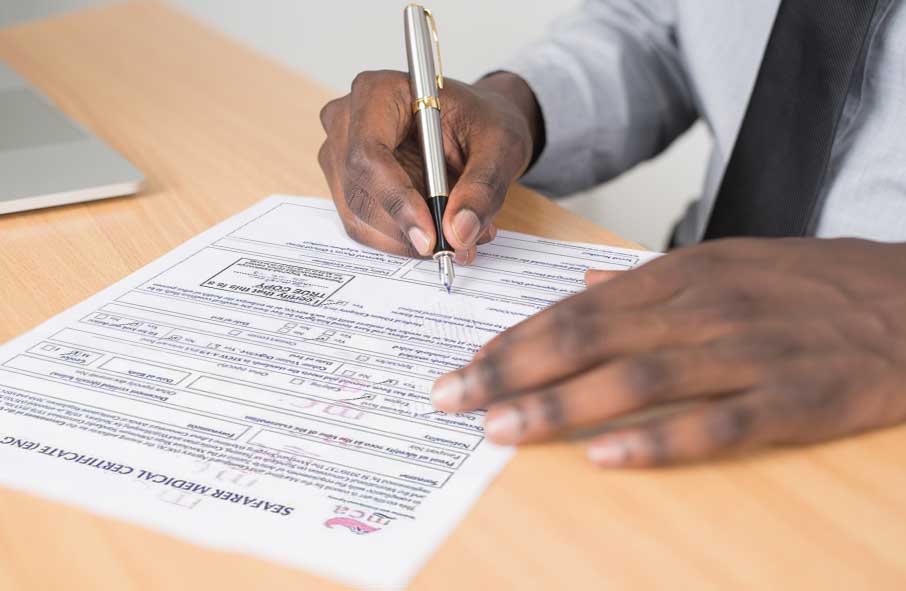 Image credit: Pexels
An ENG 1 Medical Certificate for seafarers is a must have before one starts working as a yacht crew member.
The ENG 1 is a medical examination which has been set by the Maritime and Coastguard Agency.
Its main aim is to assess if an individual is fit enough to work on a seagoing vessel, and in a state of health that is suitable to perform duties whilst at sea.
Following a basic medical examination which is carried out by an MCA-approved doctor, the ENG 1 certificate will be awarded.
The ENG 1 certificate remains valid for a period of two years.
An ENG 1 medical exam is a must unless you are going to work on a small vessel which will not be more than 60 miles away from the shore.
Why Do You Need an ENG 1 Medical Certificate?
Image credit: Shutterstock
The main purpose of getting an ENG 1 medical certificate is to prove that you do not suffer from any medical conditions which might prove unsafe for you to perform duties on board a sea vessel.
To work on a sea vessel, it is highly recommended that one is fit and healthy.
This is both for his or her safety, as well as ensuring that no other member of the crew's safety is endangered as a result.
Certain medical conditions could become more serious at sea, and this can be avoided if one is certified to be fit and healthy.
From another perspective, insurance companies require yachts to comply with certain requirements which ensure safe manning.
Otherwise insurance coverage will not be provided, or could be invalidated.
In line with this, all the crew of said superyacht will need to be fully STCW compliant, as well as have an STCW Basic Safety Training certificate, which can only be attained after one has passed their ENG 1 medical exam.
When Should I Book My ENG 1 Medical Exam?
Since the ENG 1 certificate is a must before one starts to work on a yacht or other sea vessel, you will need to undertake the medical examination as soon as you can.
As mentioned before, the ENG 1 is a prerequisite to the STCW Basic Safety Training course, so it's best to acquire it as soon as you decide to embark on a career at sea.
It will also provide you with reassurance with regards to whether you can embark on such a career in case you suffer from a condition discovered during your medical examination.
In some cases you might have to forego the prospect of taking up such a role, or it might restrict the type of tasks that you can carry out.
Where Can I Get an ENG 1 Medical Exam Done?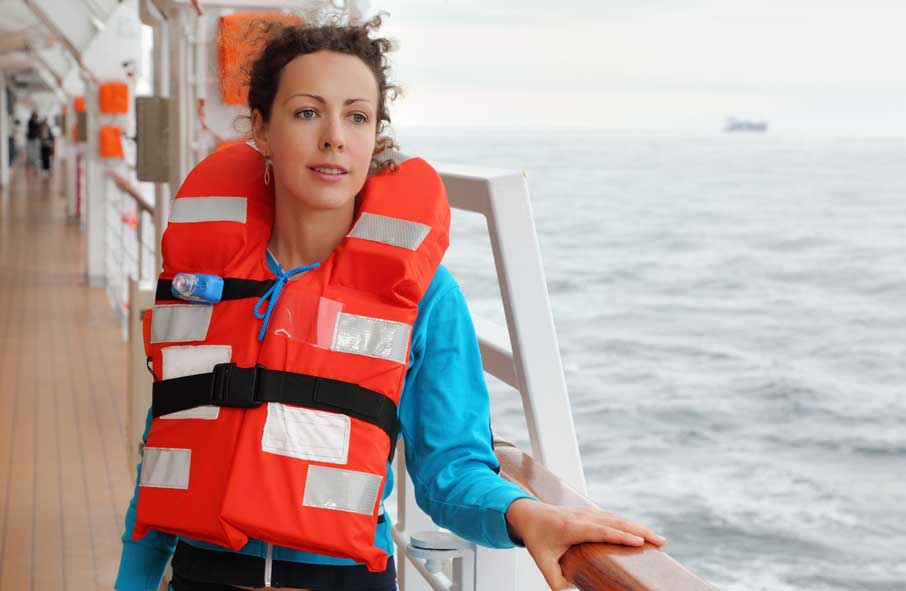 Image source: Shutterstock
An ENG 1 medical exam can only be performed by an MCA (Maritime and Coastguard Agency) approved doctor.
There are several MCA approved doctors across the UK.
A list of these doctors can also be found online at the UK government's website.
How Much Does an ENG 1 Medical Exam Cost?
In the UK the fee associated with getting an ENG 1 medical exam is in the range of £80 to £115 each.
This can vary in other countries.
It is at the discretion of the doctor who performs it, and there are no government subsidies involved.
In case you are employed in the UK, the cost will be covered by your employer.
However, should additional tests be required you will most probably be charged more.
What Happens During an ENG 1 Medical Exam?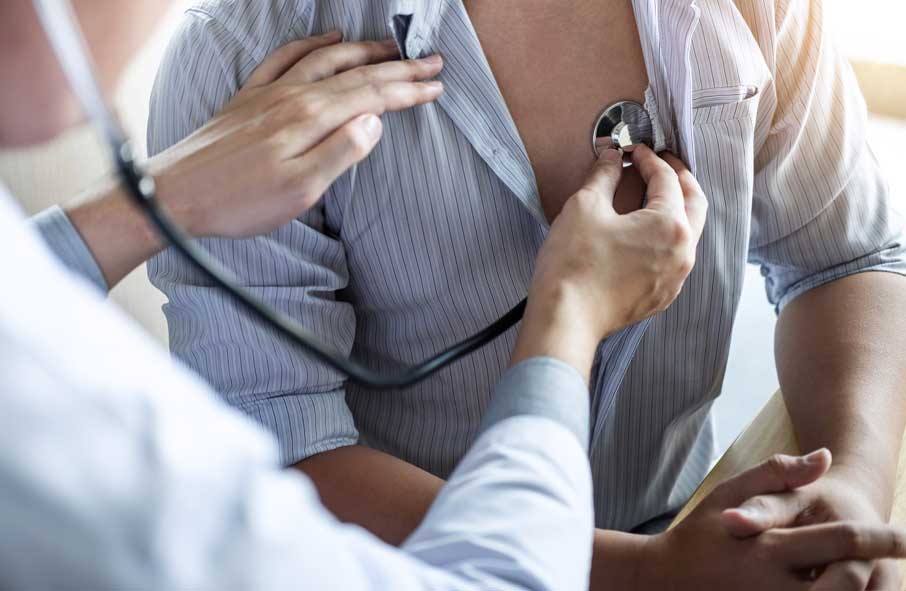 Image credit: Shutterstock
When attending the ENG 1 medical examination you will need to take the following with you:
A passport or driving license that can serve as a form of photo ID.
The name, address and contact details of your GP, and any correspondence from him or her, especially if you have recently been admitted to hospital.
A list of any medication/s that you are taking.
Your current ENG 1 if you already have one.
Your glasses or contact lenses if you use any.
The medical examination itself is non-invasive, and so you do not need to worry about anything. It will include the following:
A standard eye test.
A colour blindness test.
A hearing test.
An oral inspection of your teeth and gums.
A checkup of your ears and throat.
Your height and weight will be measured.
Reflex testing.
Testing of blood pressure and heart rate.
Listening to your heart and lungs.
Hernia testing.
A urine sample will be required to test blood sugar level and kidney functionality.
Questioning about your medical history and any habits.
Generally the medical examination is completed in about half an hour.
If you pass the exam the ENG 1 certificate is issued immediately.
Is Drug Screening Part of an ENG 1 Medical Exam?
Drug screening is strictly speaking not part of statutory seafarer medicals, including the ENG 1 medical exam.
However, since it is a condition of employment, it might be included in the ENG 1 in case there is any suspicion of adverse effects on the individual that could have been caused by drug use.
So in case of any doubt, a drug screening will be included in the ENG 1 exam.
Common Reasons Why People Fail ENG 1 Medical Exams
Following the ENG 1 medical exam, you may be deemed as:
Fit with restrictions, which would limit the work you can carry out, or enable you to work only at certain locations and certain jobs.
Be considered as being temporarily unfit.
Be considered as being permanently unfit.
In such cases the doctor will have certain concerns about your health and fitness.
The doctor may either feel that it is important to obtain additional medical information from your GP, or request advice from an MCA chief medical advisor about your case.
In case you are considered to be permanently unfit for the ENG 1, this result will stand for at least five years.
Clinical evidence which is considered to be sufficient in proving that the result can be reversed will need to be attained in order to proceed any further with your application.
In such a case, the examiner will need to issue an ENG 3 Notice of Failure/Restriction.
An independent medical review can be requested within one month of the issue of the ENG 3.
Some people may fail the ENG 1 due to the colour vision test.
In such a case the CAD test can be undertaken in order to measure the level of severity and the type of colour vision loss that one has.
Other common reasons why people fail their ENG 1 medical exam include severe asthma, severe allergies, deafness, epilepsy, lung disease, heart conditions, and diabetes which needs to be treated with insulin.
In case one takes medication that is considered to lead to side effects that could reduce one's performance, or in case of any alcohol or drug addiction problems, the ENG 1 will not be awarded either.
Conclusion
The ENG 1 medical certificate is one of the first things you need to arrange before starting a career at sea.
It is important to be aware of what it entails and how to get it to be able to proceed with your yachting career journey in a plain sailing way.
Contact Us
If you have questions about a career in yachting, we want to hear from you.
Simply get in touch with us today or let us know your thoughts in the comments section below.
Disclaimer: Any advice in this publication is not intended or written by Marine Accounts to be used by a client or entity for the purpose of (i) avoiding penalties that may be imposed on any taxpayer or (ii) promoting, marketing or recommending to another party matters herein.