Authors

Name

Patrick Maflin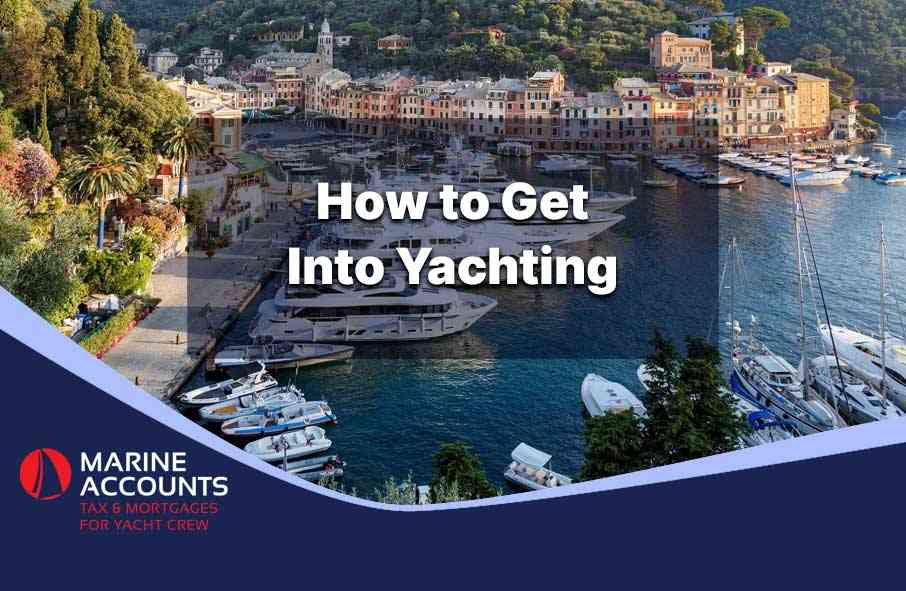 The yachting industry is undeniably an enticing field to work in, although it's not suited to absolutely everyone.
Working on board a yacht or a superyacht has numerous appealing features, and there's various tax advantages associated with such a career move.
If you're keen to make your way into yachting, then this is the article for you.
The following chapters outline the best ways to give yourself the highest possible chance of securing your dream job aboard a yacht.
---
Chapters
---
Research Life Aboard Yachts
Firstly, it's a good idea to carry out some research about what life on board yachts is actually like.
One of the first things you should focus on is whether you're really cut out for this type of job.
Does this kind of career really suit you, and is this the type of lifestyle you wish to embark on?
It's important to point out that while this kind of career sounds very advantageous and luxurious, it's not all just sunshine and cocktails.
You need to be properly prepared both physically as well as mentally to cope with the various challenges life aboard a yacht can present.
Employment aboard a yacht is not easy, and you need to be prepared to work hard, and often very long hours.
Bear in mind that you'll be working for very wealthy people, so you need to be willing to smile and be courteous even if you may not feel like it at times.
Your boss will be expecting a service with a smile, and top notch service for their guests on board as well.
Personal privacy is another issue to take into consideration.
You will probably be sleeping in a shared cabin with other crew members.
You will also need to be aware of the fact that you'll be at sea and away from home for long periods of time.
Learn About Job Roles
Besides coming to terms with all aspects of working as a crew member, it's also important to research about the different job roles on board yachts.
This will enable you to understand what various crew member roles entail, and whether you may be fit for a particular job instead of another.
The term "yacht crew" is used to refer to various roles.
Some are more hospitality based (such as a steward), whereas others are based more on specialised maintenance and day to day yachting skills (such as an engineer).
Generally, when one embarks on such a job, it's common to start off with a basic role, such as as a stew or deckhand, and eventually work your way up.
Gain Necessary Qualifications
As with most jobs, it's crucial to make sure that you acquire all necessary qualifications.
Nowadays there's several crew training providers that offer specialised courses and certifications for a career aboard a yacht.
Indeed, there are certain qualifications which are mandatory for such a job, and yachting is no different.
This includes an STCW basic safety training certificate, for instance.
This is the minimum requirement to work on yachts, where you will learn about fire prevention and firefighting, personal survival skills, personal safety, social responsibility and first aid skills.
Besides this, it's highly recommended that you receive training in other areas that are related to the yachting industry, as this will greatly improve your chances of being selected.
The more skills and certifications you can demonstrate, the better your chances.
For example, you could learn another language, or enrol on a course in food service or flower arranging.
Remember that qualifications demonstrate that you're qualified in certain skills, and that you are willing to learn.
They also demonstrate that you have a commitment to the industry and are truly willing to be knowledgeable and as skilled as can be.
You will also need to undergo an ENG1 Medical.
This is a mandatory certification to determine that you're fit and healthy enough to work at sea.
It certifies that you do not suffer from any conditions that could prevent you from performing your regular duties on board a yacht.
Update Your CV
Your CV is another important part of getting the job of your dreams, as it's essentially a marketing tool which will help you sell yourself.
It's important to prepare a professional CV that can show who you are and what you can offer.
It's also important to keep your CV up to date, especially if you're consistently following courses or acquiring new skills.
The CV should be detailed, and make sure there are no typos or grammatical errors.
It's important to include a good quality photo of yourself too.
Education and training, or any knowledge that's important to the industry should be clearly detailed.
Any previous job experiences are important, along with any hobbies and volunteer work you may have been involved in.
For instance, hobbies such as diving or any other water sports are a plus, as are flower arranging, proficiency in several languages or musical hobbies.
It's highly recommended that you demonstrate you're an energetic person, and have a good team spirit, as these are important attributes for anyone working as a crew member.
Also, always provide professional references if you have them.
Prepare for Interviews
Always be prepared for a potential job interview.
Once you get your CV out there, you should be expecting this opportunity from time to time.
Here are some key tips to be well prepared:
Keep copies of your CV as well as the certificates and licenses, and any other important documents you may wish to show the interviewer.
Always be smart and punctual for an interview.
It's important to look as confident as possible - a firm handshake and a smile are good ways of showing this, and it's crucial to always maintain good eye contact.
Show that you have researched what a job as a crew member entails and that you're prepared for it both physically and psychologically.
Demonstrate a good understanding of the sector and what the role entails, and how you can be ideal for such a post thanks to your personality, training and experience.
It's recommended that you have a good idea of what you intend to do in the future, such as the career path you intend to follow in this industry.
Register with Yachting Agencies
Once your CV is prepared, it's a good idea to register with a specialised recruitment agency and industry related job boards to submit your information.
Nowadays, there's numerous yachting agencies and online resources you can sign up to.
The more places you're registered with, the better chance you'll have of finding a suitable position.
Such websites are ideal, as yacht captains or superyacht owners who are looking for crew will generally use these to view CVs of potential candidates.
Attend Job Fairs
You should also try to attend a specialised recruitment fair, such as the Cruise Job Fair which is organised in London.
Attending such events is ideal as you'll be able to meet potential recruiters face-to-face.
While doing so, you'll also be able to discuss your CV with them, as well as give them a copy for their perusal.
You might also manage to get some valuable advice and feedback, and who knows - you might be called for an interview shortly after!
Go Dockwalking
It's also a great idea to go dockwalking to get your name out there.
Print some copies of your CV and go walking around some of the more popular marinas to try to see if by chance any of the moored yachts may have a vacancy.
You can try doing this every now and then to increase your chances of finding a yachting job.
Make sure to dress appropriately as first impressions last.
Find Daywork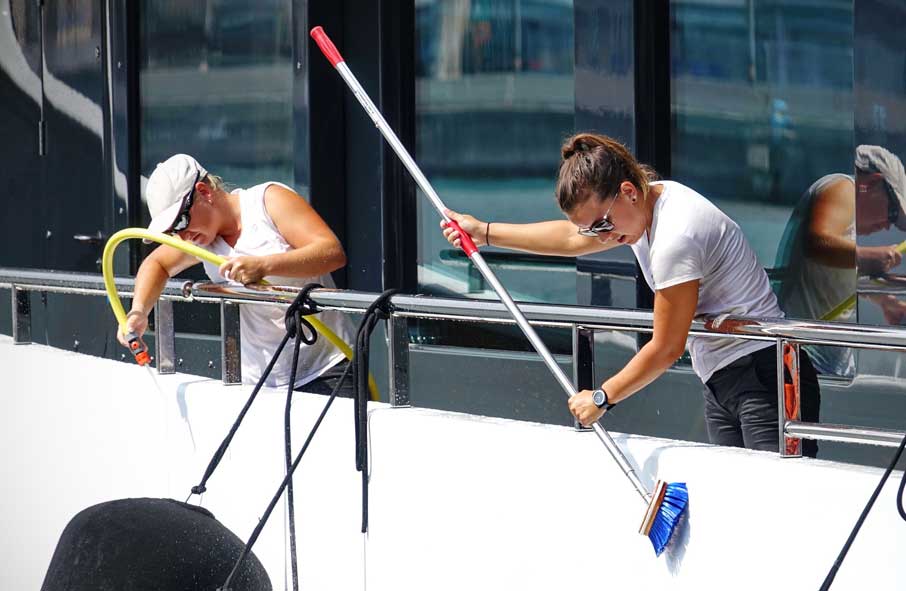 Image credit: Shutterstock
Another good idea is to indulge in daywork.
This has been greatly facilitated by means of apps such as Dayworker, where you can specify your particular location and availability, and then locate suitable opportunities.
Daywork enables you to experience different jobs as well as how it feels to work on yachts of different sizes, see how crew members work together and get a hands on idea of what it entails.
Through daywork, you'll be able to acquire more references over time, and the more roles you engage in, the more experience you gather.
This will demonstrate that you're a flexible person who's willing to work hard.
Daywork is indeed a great way of getting a head start into a career in yachting.
Be Willing to Adapt & Learn
A willingness to adapt is important for such a career.
Energetic people who are flexible and keen to learn and grow are the best type of employees in this industry.
It's important to be attentive and to listen carefully.
Follow directions and focus on the details.
Your potential employer will want to see that you're a person who embraces learning.
Even from any small, seemingly irrelevant experience or situation, there's generally always invaluable knowledge to acquire.
Over time you'll accumulate more skills, insight and experience to adapt and problem solve.
And these skills and attributes are going to give you an edge in this kind of career.
Conclusion
By following these guidelines you should be able to greatly improve your chances of getting into yachting.
As a first job, and especially if you have no prior experience, you shouldn't focus on the pay, but instead on getting the necessary skills, qualifications and experience.
A few good instances of daywork will greatly improve your work experience in no time and you will also be showing your willingness to be flexible and learn.
Good luck and have fun!
Contact Us
If you have questions about a career in yachting, we want to hear from you.
Just get in touch with us today or let us know your thoughts in the comments section below.
Disclaimer: Any advice in this publication is not intended or written by Marine Accounts to be used by a client or entity for the purpose of (i) avoiding penalties that may be imposed on any taxpayer or (ii) promoting, marketing or recommending to another party matters herein.