What is Efficient Deck Hand Certification?
Authors

Name

Patrick Maflin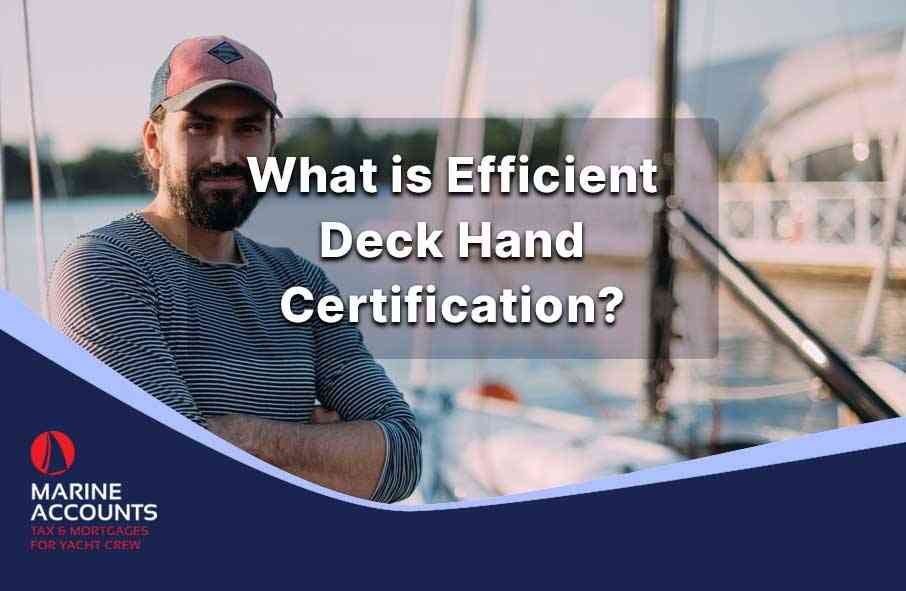 Taking the Efficient Deck Hand course is highly recommended for anyone wishing to attain a good understanding of shipboard operations, especially in the yachting industry.
It will also improve one's chances of getting a job on board a superyacht.
Moreover, the EDH course has to be completed as part of the Officer Of the Watch certification.
Read on to find out why this certification is an important step towards becoming a fully fledged yachtie.
---
Chapters
---
What is an Efficient Deck Hand?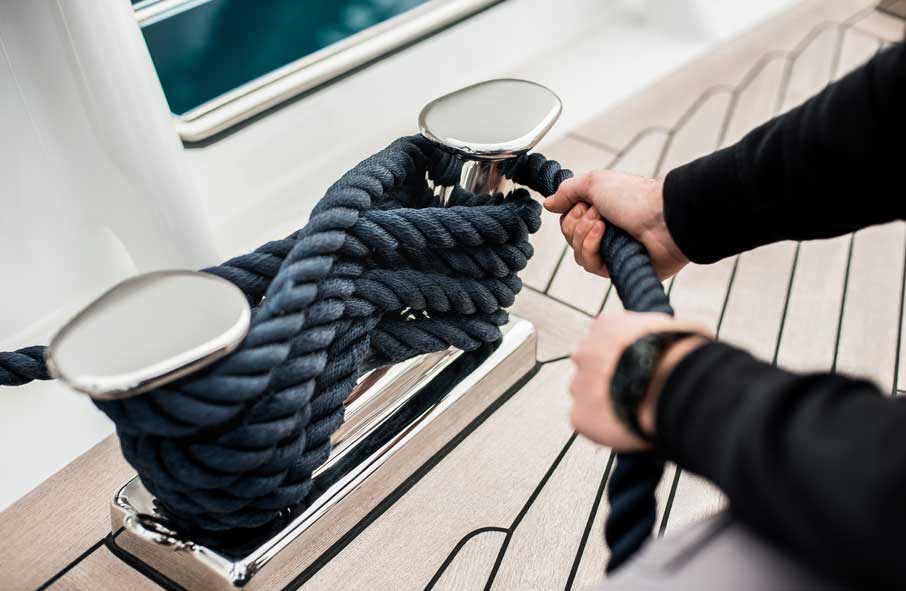 Deck Hand Tying a Knot. Image credit: Shutterstock
Efficient Deck Hand certification is a relatively short course which typically spans over 5 days.
It includes both theoretical as well as practical elements, although the practical part is more prevalent.
Various aspects are covered during the EDH course.
The aim is to equip participants with an understanding of shipboard organisation and key operations that one should be knowledgeable about.
This includes safety, seamanship, cargo work, knots, pilot ladders and means of access, among others.
Assessment is generally carried out by means of direct observation as well as oral questioning.
EDH certification does not have an expiry date and so will remain valid for many years.
What Does the EDH Course Cover?
The following areas are covered during the EDH course:
Shipboard Organisation & Operations
An important part of the EDH course revolves around shipboard organisation and operations.
Upon following this course, one will be able to learn the various parts of the sea vessel, as well as important deck equipment.
Aspects relating to berthing, anchoring and mooring arrangements, helm orders and lookout reporting will also be dealt with.
Pilot Ladders & Means of Access
When working as a deckhand, one will need to know how to rig a pilot ladder as well as be aware of other means of access.
Issues relating to boarding arrangements will also be tackled.
Cargo Work
Cargo work is another important area that is dealt with in the EDH course.
Aspects relating to cargo work, such as hatch covers, cranes, containers, and securing arrangements will be discussed.
Safety
Safety knowhow is of great importance when working on board a sea vessel.
Hence it goes without saying that this is a key area in the EDH course.
Using fire extinguishers, and lifeboat and life-raft launching will be discussed.
COSWOP and IMO safety signs will also be tackled.
By completing this course one will be able to contribute to the safe navigational watch and the safe operation of deck equipment and machinery.
Relevant occupational health and safety precautions will also be discussed.
Seamanship
Seamanship is another interesting and broad area covered in the EDH course.
Here rope types and construction, as well as knots, bends and hitches will be taught.
Course participants will also learn how to handle rope and wire splicing, whipping and seizing, as well as rigging a bosun's chair and stage, among other tasks.
What are the Entry Requirements?
There are a number of prerequisites that you need to have in order to register for the EDH course.
These include:
Be at least 17 years of age.
Hold a valid ENG1 medical certificate
Have a minimum of 6 months sea service carried out on vessels over 15m long.
If the previous requirement are not met, you will need to have any one or more of the following:
An NWR certificate
A Boat Master Licence (BML) Tier 1, Level 2 certificate
MCA-accepted Yachtmaster Offshore
A Tug rating with a minimum of six months' of seagoing service accompanied with a steering certificate
Yacht rating with a minimum of six months seagoing service and a steering certificate.
What Type of Jobs Requires an EDH?
Upon completion of the EDH course, one can have better chances of getting into yachting as a deck officer, engine officer or as an officer supervising deck operations.
This course is recommended for merchant navy personnel who wish to qualify for deck rating.
It is also a prerequisite for a first Certificate of Competency (Deck).
The EDH certification is also needed for the issue of the AB's certificate.
Conclusion
Once an EDH course is completed, you should have a sound knowledge of how to perform a comprehensive range of seamanship tasks.
You will also have a good knowhow of safe working deckhand practices, which are essential to anyone working on board a sea vessel and be well on your way to becoming a seafarer.
Becoming a crew member aboard a yacht does require a lot of work to improve your skill set, but the time and persistence is worth it.
If you're fortunate enough to eventually land yourself a job aboard a superyacht, you could be earning a tax free income if you qualify for the seafarers earning deduction.
So making the effort to become qualified is most certainly worth it.
If however you still have questions about becoming a yachtie or how you can earn a tax free income at sea, speak to one of our team for help.
Disclaimer: Any advice in this publication is not intended or written by Marine Accounts to be used by a client or entity for the purpose of (i) avoiding penalties that may be imposed on any taxpayer or (ii) promoting, marketing or recommending to another party matters herein.