How Much Does a Yacht Captain Make?
Authors

Name

Patrick Maflin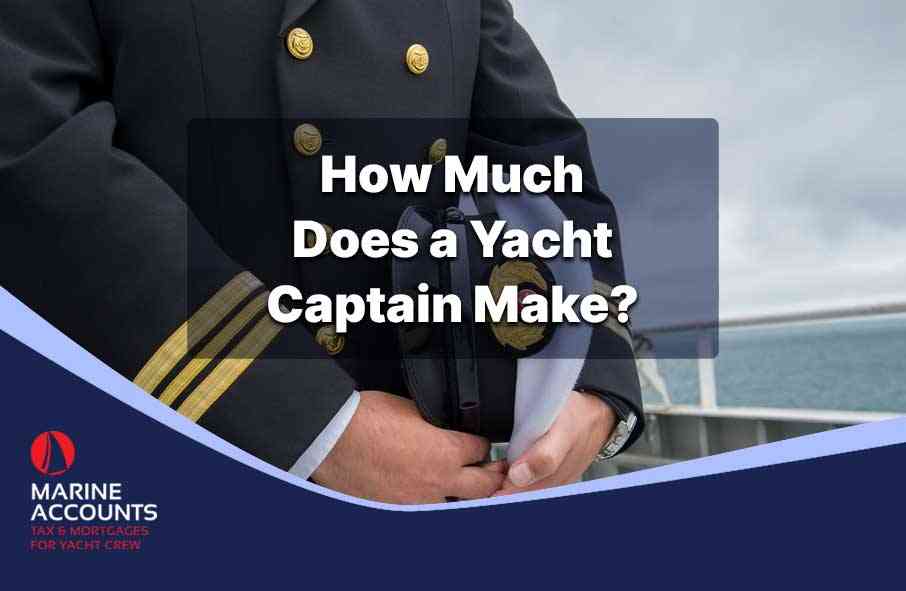 Working onboard a superyacht as a Captain sounds both enthralling and inspiring.
Whilst the job may appeal to many, not everyone is suited to such a highly qualified and demanding role.
That said, if you do have the necessary qualifications, skills and experience on your resume, you might be interested to learn more about the typical salaries yacht captains make.
And this is exactly what we'll be uncovering in the chapters below.
---
Chapters
---
How Much Should a Superyacht Captain Get Paid?
| | | |
| --- | --- | --- |
| Position | Size of Vessel | Salary Range |
| Senior Master | 170ft - 200ft + | $140,000 - $300,000 |
| Captain | 100ft - 170ft + | $85,000 - $170,000 |
| Junior Captain | 60ft - 100ft + | $48,000 - $98,000 |
The salary that's paid to a superyacht captain depends on various factors.
For example, yacht size, experience, training and qualifications all have a part to play.
Moreover, it's important to consider other aspects related to the salary, such as perks, bonuses, and annual leave.
Often health insurance, paid vacation and flight expenses are paid by the employer.
It's also worth noting that the captain will be residing on board, and hence all food and sundries will be catered for as well.
There are also tips to be earned from charter guests.
So most of your income should start to rack up, making it a great career move for anyone wanting to save up for a future investment or a rainy day.
And if circumstances are right, you may even qualify for the seafarers earnings deduction, meaning you pay zero tax on income earned.
Of course, you must meet certain criteria to qualify for completely tax free income.
This is dependent on the length of time spent at sea outside UK waters.
To ensure you correctly qualify, the most fail safe way is to take an online residency test.
This will give you the most definitive answer on whether you can claim the SED.
If you're in any doubt however, always seek the advice of a specialist tax accountant who can help.
Senior Master
A Senior Master captain is usually employed onboard large vessels, which are generally in the range of 170ft and 200 ft long or more.
The salary range that such a captain can expect tends to vary between $140,000 and $300,000 per annum.
Captain
In the case of a captain working on a vessel of a size ranging between 100 ft and 170 ft in length, the salary ranges between $85,000 and $170,000 per annum.
The final figure tends to depend on his or her years of experience and qualifications.
Junior Captain
A Junior Captain is often employed on relatively smaller yachts, typically ranging between 60 ft and 100 ft long.
As the title implies, a junior captain is just starting out on their career.
So the salary will be at an entry level range since their years of experience in this case will be somewhat limited.
Salaries for Junior Captains are typically between $48,000 and $98,000 per annum.
Responsibilities
A yacht captain will have numerous responsibilities, including:
Passenger Safety
This is the top responsibility for any captain.
Since the captain will be navigating the vessel, he is responsible for the lives of all those aboard the ship.
The captain will also be held accountable for the yacht itself, as well as for the environment.
The captain will need to have a solid understanding of the mechanics of the vessel, including electronics, as well as regulatory requirements that will need to be abided by.
Owner Objectives
The owner of the yacht will have specific objectives as well as certain expectations.
The yacht captain will need to be aware of such goals and work to fulfil them.
Whilst the owner may simply require the captain to provide smooth navigation and a luxurious service, certain owners will have far higher expectations.
These owners will regularly use the vessel along with their family, as well as entertain guests onboard.
Needless to say, the more people are aboard, the bigger the expectations will be.
The charter periods for the yacht will also need to be factored in.
Hiring & Firing Crew
Throughout any hiring or dismissal of crew members, the captain needs to ensure that confidentiality is maintained, and the vessel remains as safe as possible.
The yacht captain will be responsible for acquiring the most suitable employees for the program.
This is not a straightforward process as he will need to identify individuals with suitable experience, certification and personal attributes to become a part of the crew.
The Maritime Labor Convention (MLC) also stipulates strict rules for the contracting, dismissal and managing of crew members.
So the captain will need to be conversant with these to ensure adherence.
Manage Personnel
Onboard a yacht there'll typically be between 12 and 40 crew members, depending on the vessel's size.
So managing a large team is not that straightforward.
There'll also be a dayworker and seasonal hires as well.
The captain will need to set a positive work ethic, ensuring that crew members are doing their jobs properly.
They should seek to achieve good inter-crew communications starting with the stewardess, so that yacht operations run as smoothly as possible.
It's important to note that this is easier said than done, especially when considering that crew members will be working as well as living together 24/7.
So maintaining good team relations and staff moral is even more challenging.
Vessel Maintenance
The captain should oversee routine maintenance of the vessel.
Any upgrades or repairs will need to be seen to as well.
Time considerations for any maintenance as well as costs implications will also need to be overseen and managed by the captain.
The captain should also have a good knowledge of the register and flag requirements, as these are key to defining the project, as well as obtaining quotes.
The captain will be supervising any maintenance or upgrading works to ensure that it is being carried out as planned.
Accounting
Surprisingly to some, the captain will also be responsible for the budgeting and financial record keeping.
These duties are basic accounting duties however, and in the case of some vessels, a different business model may be used, thus resulting in additional accounting duties for the captain.
Navigating
This is the most common role of any captain.
While it's the primary responsibility that comes to mind, there are various other responsibilities that a captain needs to handle, as previously covered above.
When it comes to navigating, the captain will be responsible for plotting a safe course, and to follow it.
He will also be taking care of the docking and departing from berths.
Average Yacht Captain Monthly Salaries
As mentioned earlier, the size of the yacht impacts on the salary of the captain.
60ft - 90ft Yacht
Captains who work on vessels that are in this range typically earn an average of $7,500 per month.
However, they could earn more if they have more years of experience.
Their salary could go as high as $20,000 per month.
90ft - 139ft Yacht
Captains working onboard vessels ranging up to 139 feet can expect to earn an average salary starting from $10,000 per month, with the prospect of nearing $20,000 per month depending on experience.
140ft - 179ft Yacht
An average monthly salary of $14,000 can be expected for captains working on yachts of this size.
However, the salary could easily exceed $34,000 per month for some more experienced or highly qualified captains.
180ft - 239ft Yacht
A captain working onboard such a yacht can expect a monthly salary of around $15,000, with the prospect of going up to around $24,000 per month.
240ft - 279ft Yacht
A captain's monthly salary onboard a yacht between 240ft and 279ft is very similar to that of a yacht between 180ft and 239ft according to some surveys.
Indeed, a salary of $16,000 is the average, while there are some captains who earn around $20,000 per month.
Above 280ft Yacht
As the yacht is considerably larger than most, there's far more responsibilities involved.
An average monthly salary of $20,000 is to be expected.
However, there are some captains who can earn as much as $32,000 per month.
That said, there are relatively fewer vessels of this size.
So jobs of this nature are very few and far between.
Hence, such jobs are typically reserved for only the very highest skilled and experienced captains.
Yacht Captains on Rotation
According to a survey conducted by Dockwalk, around a fifth of captains work on rotation.
With such an arrangement, the captain will generally be paid on a monthly basis regardless of the rotation schedule.
If you compare rotational and full time salaries, there is generally a slightly higher salary for the latter.
Around 50% of captains who work on a rotational basis are employed on yachts of sizes in the range of 165ft to 190ft.
Conclusion
While the salary attributable to the role of a yacht captain may appear very appealing, it's important to note that there are numerous important responsibilities and requirements involved in the role.
The captain will require certifications, qualifications and professional training as a bare minimum.
These will also need to be coupled up with key personal attributes such as good leadership skills, a diplomatic, charismatic and calm personality, good organisational skills and exceptional communication skills.
The captain is ultimately the person who will be entrusted with the management and safeguarding of the entire vessel, as well as taking care of the crew.
Hence, the salary will reflect such important duties as well as the captain's extensive maritime experience.
Contact Us
If you want to know more about a career as a yacht captain and how you can earn a tax free income, reach out to one of our team.
Simply get in touch with us or share your opinion in the comments section below.
Disclaimer: Any advice in this publication is not intended or written by Marine Accounts to be used by a client or entity for the purpose of (i) avoiding penalties that may be imposed on any taxpayer or (ii) promoting, marketing or recommending to another party matters herein.