A Complete Guide to Dockwalking
Authors

Name

Patrick Maflin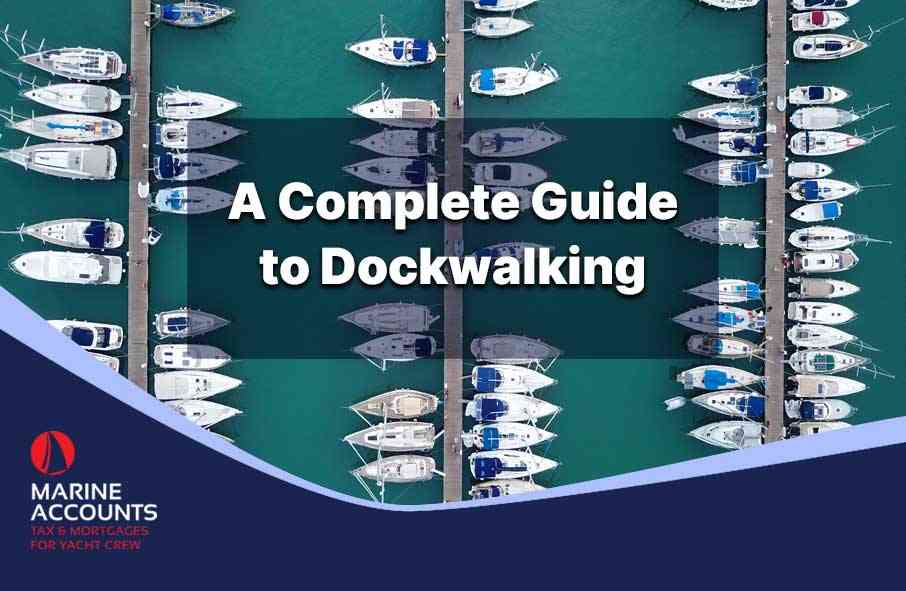 If you're aspiring to land a job in the superyacht industry, you might feel a bit discouraged at first.
It's a fact that the industry is saturated with new people trying to land their first job.
If you have no experience whatsoever to call upon, the best thing you can do is to start dockwalking as much as you can.
Dockwalking is the perfect way to get your name circulating amongst superyacht owners.
You may even get some day work opportunities which will give you that much needed first experience.
In this guide to dockwalking, we'll help you get started on the right track.
---
Chapters
---
What is Dockwalking?
Dockwalking is a commonly used term in the superyacht industry.
As the name implies, it involves walking along docks at popular marinas where superyachts are moored, to look for work opportunities on board yachts looking for additional hires.
Primarily, you can use this as an opportunity to distribute your CV.
And by doing so, you can greatly increase your chances of landing some daywork.
If you're in the right place at the right time, there's also a chance that permanent work could be found on board one of the yachts the same day.
Dockwalking can prove to be quite tiring, disheartening and often intimidating.
Some crew members may not be very approachable. Some may even put you down or shrug you off.
However, it's important to avoid giving up and to remain as confident as possible.
Will Dockwalking Get Me Daywork on a Yacht?
The most important piece of advice when it comes to dockwalking is to start early.
The majority of yachts begin working at 8:00am and if they need a day worker, will most likely take on the first dock walker who approaches them.
You cannot be certain you'll manage to grab some daywork on a yacht while dockwalking, but there's a high probability that you could land some daywork on certain days.
And it's safe to say that's your best bet.
Best Dockwalking Locations
There are a number of dockwalking locations that are considered as hotspots.
Barcelona in Spain and Antibes in France are great locations, although lately dock security has increased there.
In France you could try visiting Toulon, Nice, Cannes and La Ciotat as there are several yachts moored there.
If you are considering visiting Italy you could head to Genoa, San Remo, Loano or Imperia.
Monaco and Palma in Majorca are also good dockwalking locations.
Best Places to Stay
As soon as you've decided where you want to dockwalk, you'll need to book a place to stay.
Since the locations mentioned are all very popular, it's important to plan in advance.
You might opt to stay in a crew house, or in a privately rented place with others.
Another option could be to stay in a campsite out of town.
Generally, staying in a crew house is the most popular option as it's basically a hostel, where you share a room with others and spend time in communal areas.
Often, many crew houses offer the opportunity of networking, and since they're generally run by people who are connected with the yachting industry.
So you might be able to improve your chances of learning about job opportunities.
Dockwalking Tips
The following are some tips which should come in handy if you go dockwalking.
These guidelines should improve your chances of doing better - so do bear them in mind!
Prepare a CV
Prepare a detailed CV to outline your most important personal traits, skills and education.
Print out several CVs and place them in plastic sleeves individually so that you can be sure that you'll be handing them out neatly.
It will also help you look more professional.
Plan Your Route
It is a good idea to plan your route in advance to avoid wasting time unnecessarily.
Check which marinas allow dockwalking as there's some which have very strict security or certain regulations.
Go to the docks early in the morning.
You can use the latter part of the day to go through social media, crew agency sites and apps like Dayworker to check for any new opportunities that might have been posted.
Also regularly check your email inbox.
It's a good idea to visit crew agents in person too.
In the evening you could try to do some evening dockwalking, as there could be the possibility to find some day work for the following day.
Getting Around
You may wish to consider renting a bicycle, a scooter or using a skateboard as this will enable you to cover more ground within a shorter period of time.
It is also less tiring than walking.
However, make sure to leave the bicycle, scooter and skateboard at the entrance.
Always approach the yachts on foot.
Start Early
It's highly recommended to start early when going dockwalking.
Ideally, be there at around 7:30am, as that's the time the crew will be available.
Morning dockwalking is the best time to improve your chances of getting better results and more approachable people.
Dress to Impress
First impressions matter a great deal, and in the yachting industry they matter even more.
You will be speaking with the crew of superyachts, and so you need to make sure that you're dressed appropriately to make a good impression.
Clean and ironed smart trousers and a white long sleeved shirt or polo shirt is recommended.
It's advisable to always take off your shoes before going on board, and never step on board uninvited.
Be Polite
It's crucial to always be polite and courteous.
You may not always be treated politely as some people you meet could be quite dismissive or rude.
Even in such cases, do not show discouragement and don't react negatively or defensively.
Be prepared to face rejections, but try to keep smiling and never ever give up!
Prepare a Pitch
Your main aim is to try to make a very good impression.
So you need to prepare yourself well and prepare a sales pitch.
This will enable you to look and feel more confident.
Show that you are enthusiastic, and look up some popular yachting expressions that you could use when answering questions.
Prepare some answers to commonly asked questions to show that you're knowledgeable and well educated too.
Spare Clothes
Since dockwalking could land you daywork, it's highly recommended that you carry a backpack with a change of clothes.
It's a good idea to pack a white shirt and shorts, as well as an old t-shirt in case you will be given work that could get your clothes dirty.
Time of Day
As mentioned above, it's important to start dockwalking at around 7:30am.
Never approach yachts during lunch hours, or outside working hours which are usually before 7:30am and after 17:00.
Besides the early morning, the last couple of hours of the day are also a good time to improve your chances of landing daywork for the following day.
Between 15:00 and 17:00 the crew will have a good idea of the following day's schedule, so they might ask you to join them.
Guests on Board
It's extremely important to avoid approaching a yacht if you notice there's guests on board, or you can see they're likely to be expecting guests.
You can tell if you see flowers on deck, or if it's clear that the yacht is being dressed for a special occasion.
The crew may also be wearing polos.
Do's & Don'ts
Here are some do's and dont's to bear in mind when dockwalking:
Do's
Always be as polite and as gracious as possible.
Always be smart.
Get used to many rejections and avoid taking it personally.
It's best to ask open questions.
Dont's
Avoid dockwalking over lunchtime as it's not an ideal time since the crew will be having their lunch.
Don't dockwalk during weekends as that's the crew's downtime, so they won't be readily available at all.
Never approach guests that are on board.
Best Time of Year to Go Dockwalking
Most superyachts will crew up for the Mediterranean season between April and May.
Some might even start looking for crew members as early as March however.
So it's generally a good idea to do dockwalking in late March or early April.
Another option is to dockwalk between October and November.
A good number of yachts will be crossing the Atlantic for the beginning of the Caribbean season later in the year, so crew members will be needed as well.
Conclusion
Dockwalking is practically a must for all aspiring crew newbies.
Even though it may look hard and somewhat intimidating, don't be disheartened and don't give up.
By following these tips, you can be well prepared for dockwalking and increase your chances of landing some work within a short space of time.
Contact Us
If you have questions about a life and taxation working on a superyacht, then get in touch with us.
Just contact us today or let us know your opinion in the comments section below.
Disclaimer: Any advice in this publication is not intended or written by Marine Accounts to be used by a client or entity for the purpose of (i) avoiding penalties that may be imposed on any taxpayer or (ii) promoting, marketing or recommending to another party matters herein.