What is RYA Competent Crew Training?
Authors

Name

Patrick Maflin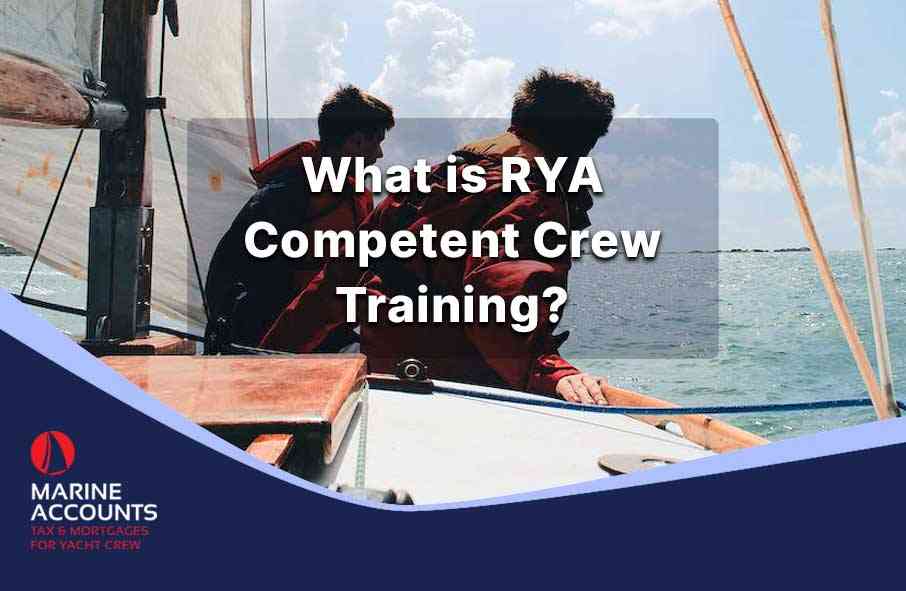 The RYA Competent Crew course is a Royal Yachting Association certified beginners level sailing course.
It teaches the basic knowledge and skills needed to become a competent crew member on a sailing yacht.
Whether you're new to the yachting industry or consider yourself a seasoned pro, attending and passing this course will give you some essential foundations about sailing a yacht.
In this article, we uncover what the course entails and as yachtie, how you'll benefit from having this qualification on your CV.
---
Chapters
---
Who Should Attend a RYA Competent Crew Course?
The RYA competent crew course is suitable for anyone interested in yachting with little or no experience of sailing.
It's ideal for those who're new to yachting and want to gain some fundamental skills before moving on to more advanced sailing courses, or getting a job on a superyacht.
It's also very suited to those who've sailed before but would like to refresh their skills.
How Long is the Course & What Will I Learn?
The course is typically taught over 5 days and includes both classroom and practical training.
Participants will learn about:
safety procedures
sail handling
rope work
steering
navigation
other essential sailing skills
By the end of the course, participants should be able to work as an effective crew member on a yacht.
They'll also gain a basic understanding of how to handle a yacht in a variety of conditions.
The course is often a prerequisite for further RYA courses and can be a good starting point for anyone interested in sailing as a hobby or as a career in yachting.
Overall, anyone who wants to learn to sail and become a valued member of a yacht crew should consider attending the RYA Competent Crew course.
Where Can I Attend a Course?
The Royal Yachting Association (RYA) offers competent crew courses through various RYA-approved training centres worldwide.
To find a suitable course near you, you can visit the RYA's official website and use their training course search tool.
Alternatively, you can contact your nearest RYA training centre directly and enquire about their competent crew courses.
The RYA website has a "Find a Training Center" tool that can help you locate RYA-approved centres in your area.
Will RYA Competent Crew Certification Help Me Get a Job on a Yacht?
Absolutely! By having as many yachting skills on your CV as possible, you will always increase your chances of getting a prestigious job aboard a luxury yacht.
The yachting industry is highly competitive, with many skilled crew members all vying for the best jobs.
So if you want to gain an advantage over the pack, you'll benefit from increasing your skill set by gaining certification with one or more of the following:
By having any of these additional skills in your arsenal, you'll stand a much better chance of landing your dream job when you decide to go dockwalking.
What are the Perks of Working on a Yacht?
UK residents working on a yacht can enjoy a range of benefits depending on their employment status, the yacht's location, and other factors.
Some of the common perks include:
Tax Benefits
If you're a UK resident working on a yacht that spends over 183 days per year outside UK waters, you may be eligible for the seafarers earnings deduction.
If you qualify, you may not have to pay income tax or national insurance contributions on the earnings you received whilst working at sea.
The best way to be sure is to use our free online residency test.
Travel
Working on a yacht provides many opportunities to travel to different parts of the world, which can be an exciting and enriching experience.
Accommodation
Most yachts provide accommodation for their crew.
This means that you don't have to worry about finding or paying for housing while working on the yacht.
Training & Career Development
Many yacht employers offer training and opportunities for career development.
This can help you advance in your career, whilst acquiring new skills.
Networking
Working on a yacht can provide opportunities to network with other professionals in the yachting industry.
This can be invaluable for future job opportunities and career growth.
Ready for Your New Career?
If you're passionate about working in the yachting industry but still have reservations, why not drop us a line?
Our team of experts have extensive yachting experience, and would be delighted to answer any questions you have about working within the industry.
We can also help you with tax preparation and filing when the time comes to declare your income to HMRC.
And remember, if you qualify, you may not have to pay a penny of income tax!
Disclaimer: Any advice in this publication is not intended or written by Marine Accounts to be used by a client or entity for the purpose of (i) avoiding penalties that may be imposed on any taxpayer or (ii) promoting, marketing or recommending to another party matters herein.