Level 2 Food Hygiene Certificate - A Must for Yacht Crew
Authors

Name

Patrick Maflin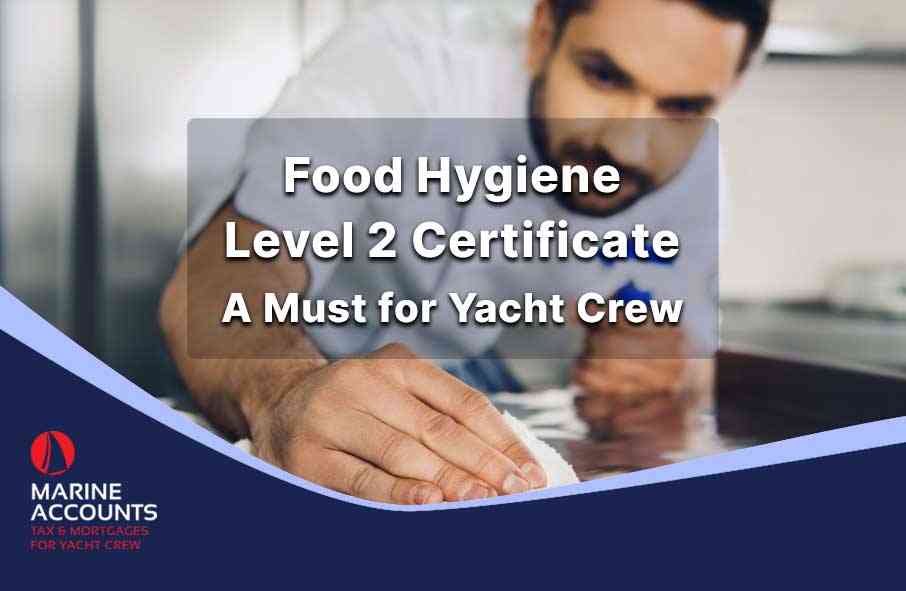 The Level 2 Food Hygiene certificate is tailored for individuals who handle or work with food in a professional setting.
It provides an overview of food safety and hygiene, the consequences of food-borne illnesses, food legislation, techniques for food preservation, storage, and temperature control, personal hygiene practices, as well as the fundamentals of HACCP.
If you handle or work with food and need to meet the UK's food training standards, the food safety and hygiene course is a must for any current or aspiring yacht crew members, especially head chefs.
---
Chapters
---
Why Take the Course?
In accordance with UK law, any individual who handles food must possess an understanding of food hygiene principles and adhere to practices to safeguard the food they serve from contamination.
The Level 2 Food Hygiene and Safety course is suitable for anyone working within the catering industry who prepares, handles, or serves food.
The course will educate attendees on their legal obligations and the best practices to follow in controlling food safety hazards, temperature control, food storage, food preparation, personal hygiene, and premises cleaning.
Interactive exercises, written material, and video content will assist in fully understanding responsibilities.
After completing training, participants have the confidence to apply their food hygiene knowledge and the tools required to keep individuals safe while complying with food hygiene legislation.
Who Should Take the Course?
Food handlers working in various disciplines of the catering industry must take this course.
This includes employees at restaurants, hotels, cafes, bars, fast-food outlets, takeaways, mobile food trucks, kitchens, hospitals, schools, and colleges, and of course, yacht crew, who will all benefit from this course.
Typically, the following crew members will handle food whilst working abroad a yacht:
Head Chef
Sous Chef
Cooking Assistant
Chief Stewardess
Stewardess
It is without doubt that anyone working aboard a yacht handling food should take this course as a matter of necessity, rather than choice.
Adherence to the European Union Regulation (EC) No 852/2004 on food hygiene requires that all food handlers receive adequate training to perform their duties safely.
The Level 2 Food Hygiene and Safety for Catering course guarantees that participants meet this legal obligation by imparting comprehensive knowledge of appropriate food handling practices.
By having taken this course, it will give yacht owners the confidence that all staff involved in food preparation and serving are trained accordingly.
What Will You Learn on the Course?
The course covers all the necessary topics to comply with the UK's food standards, such as safe food storage and freezing, equipment cleaning and disinfection, pest control, food laws, and more.
Its comprehensive content aims to boost an individual's confidence and ensure the safety of both yourself and fellow crew members, guests and yacht owners.
The course is broken down into manageable sections that participants can complete in any order they wish, at their own pace, making it easy to fit into anyone's busy schedule.
Most Level 2 Food Safety and Hygiene courses are RoSPA Assured, ensuring quality and credibility.
Upon completion, learners will receive a digital certificate that is RoSPA Assured and Level 2 Food Safety and Hygiene certified.
Furthermore, learners have the option to receive a high-quality printed version of their certificate.
Where Can You Attend a Course?
Most Level 2 Food Hygiene courses can be taken online, making it super-convenient.
The course can usually be completed within 2-3 hours maximum.
Since it's e-learning based, it can be completed at one's own pace and in stages convenient to you.
This Level 2 Food Safety and Hygiene course does not have any specific entry requirements, making it accessible to anyone who wants to enhance their knowledge and skills in food safety and hygiene.
Importance of Food Safety Aboard Yachts
More than 2 million instances of food-borne illness arise in the UK each year.
The danger of such illnesses heightens when personnel responsible for preparing, handling, and serving food lack the essential knowledge or training to perform their tasks safely and hygienically.
If the yacht owner or one of their guests were to fall ill due to food poisoning whilst at sea, the consequences could be catastrophic.
Hence, the need for proper handling and preparation of food aboard a yacht is greatly enhanced when taking these circumstances into consideration.
Enhance Your CV
Obtaining a Level 2 Food Safety and Hygiene certificate can significantly increase the chances of aspiring yacht crew members securing a job onboard a ship.
This is because yacht owners and operators are often looking for crew members who have the skills and knowledge to provide a high level of service and safety to guests.
By taking the course, yacht crew members will learn about the best practices in food safety and hygiene, which will enable them to safely handle, prepare and serve food to guests.
They will also gain an understanding of the importance of personal hygiene and cleanliness in a yacht's galley, which is a critical aspect of maintaining the health and safety of guests and crew.
Having a Level 2 Food Safety and Hygiene certificate is evidence to yacht owners and operators that the crew member is committed to providing a high-quality service and has the necessary skills to do so.
This, in turn, can make the crew member stand out from other candidates and increase their chances of securing a highly paid job onboard a yacht.
Additionally, some yachts may require their crew to have this certification as part of their hiring requirements, making it an invaluable asset for anyone looking to get into yachting.
By continually training and enhancing your skill set, you increase your chances of securing a lucrative and potentially long term job aboard a luxury vessel.
This could mean earning a well-paid tax free income if you qualify for the HMRC's seafarers earnings deduction.
So a small investment in gaining food hygiene certification could offer huge financial benefits in return!
Conclusion
Yacht crew members have a crucial role to play in ensuring that the food served onboard is safe for consumption.
Level 2 Food Safety and Hygiene certification is essential training that can benefit yacht crew members by providing them with the necessary knowledge and skills to handle, prepare, and serve food safely and hygienically.
The course covers essential topics such as food storage, temperature control, personal hygiene, and cleaning procedures.
Additionally, the course emphasises the legal requirements that food handlers must follow to maintain food safety standards.
By taking this course, yacht crew members can enhance their understanding of food safety practices, enabling them to reduce the risk of food-borne illness and ensure the safety of passengers onboard.
Moreover, the certification obtained from this course can be used to demonstrate the yacht's compliance with food safety regulations and improve the yacht's reputation.
Ultimately, a Level 2 Food Safety and Hygiene course can benefit yacht crew members by providing them with the necessary knowledge and skills to carry out their duties safely and professionally.
Disclaimer: Any advice in this publication is not intended or written by Marine Accounts to be used by a client or entity for the purpose of (i) avoiding penalties that may be imposed on any taxpayer or (ii) promoting, marketing or recommending to another party matters herein.