How Much Do Yacht Chefs Make?
Authors

Name

Patrick Maflin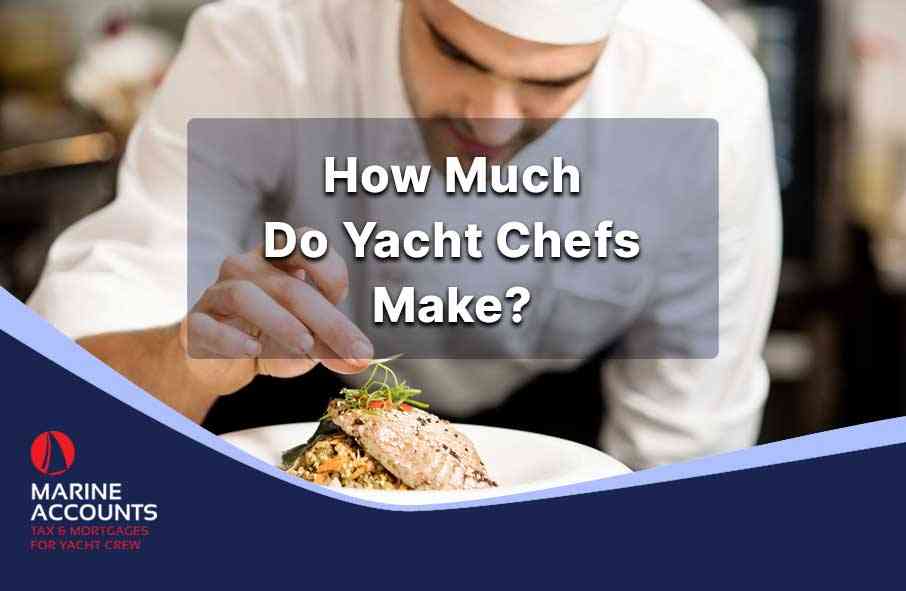 A job onboard a superyacht has many appealing features, especially for a budding chef.
If you love to travel and have been working towards a professional career in the food industry, have you ever thought of taking this to the open seas?
Working as a yacht chef could prove to be a very lucrative career, whilst broadening your horizons.
Not only will you be cooking aboard a unique luxury vessel, you may even be earning a tax free salary.
If circumstances are right, your salary could qualify you for the seafarers earnings deduction - yes, that means zero tax on income earned!
With living expenses including food, drink and board all taken care of, this is the ideal career to start putting that money away for future investments.
So there's many reasons to embark on a catering career on board a yacht sailing the seas.
With that thought in mind, here's some pertinent information about how you could embark on such an adventurous career, along with other relevant details relating to the job.
---
Chapters
---
How to Become a Yacht Chef
So how do you bag yourself a dream job as a chef aboard a superyacht?
It's not such a common vacancy to come across, so there's bound to be fierce competition for such a unique career opportunity.
It's best to start off by pointing out that yacht chefs are generally recruited from those already employed as sous chefs or head chefs within the catering industry.
They are commonly plucked from professional kitchens in luxury hotels and high end restaurants.
That said, this does not necessarily mean that if you've never worked in such a post then there's no chance of you becoming a yacht chef.
In most cases, you'll probably be required to gain experience working as a second chef or a crew chef on a yacht before getting the top job.
In fact, crew chef roles are considered to be an ideal way to break into the industry.
Whilst working in such a post, you'll have the opportunity to gain experience as well as build relationships with suppliers.
It's a great way to gain considerable job experience and insight in the industry without having the whole pressure of serving all the guests onboard.
Besides such job experience, it's also crucial that you have a positive outlook, and are a confident and flexible person.
Culinary experience and a flair to create tasty dishes is indispensable, but you also need to have such personal qualities to do well in such an environment.
And of course, you will need to have all the relevant training and qualifications to back you up.
We'll be exploring this important point in the next chapter.
Qualifications Required
There's a number of qualifications you should try to acquire prior to applying for any chef related posts onboard a yacht:
STCW Basic Safety Training
The STCW Basic Safety Training course is a must for anyone working on board a sea vessel.
This certification demonstrates you have the necessary skills to identify any safety hazards while working at sea, and how to respond accordingly in an emergency situation.
In fact, this course includes training in areas such as personal survival, first aid, security awareness, fire prevention and fire fighting.
ENG 1 Medical Certificate
The ENG1 Medical certificate is also a must-have.
It ensures that you've had a medical examination by a registered medical practitioner, and are certified to be fit to work on board a sea vessel.
This is important both for your own safety as well as for those around you.
Food Safety & Storage Training
You'll be working with food, and so naturally you should have training and knowledge surrounding the proper storage and handling of foods.
The Food Hygiene Level 2 course, for instance, is considered to be a must for such a role.
Sommelier Training
Sommelier training is seen as an asset if you're considering applying for a yacht chef role.
This is a rather extensive course which helps you to develop a good understanding of food and wine, including wine sensory analysis and wine production, among others.
Sommelier training places a lot of importance on establishing a good balance between theory, serving and tasting, among other important areas.
Silver Service Qualification
It's recommended that you have a silver service qualification.
This will demonstrate you have the relevant experience of working in a fine dining restaurant or catering establishment where a high level of personalised attention to the diner is considered imperative.
Necessary Experience
Formal training is of great importance, but there's some things which you will learn from experience.
Some of these include:
Commercial Kitchen Experience
Working in a commercial kitchen will offer you great insight into cooking on a large scale.
This will enable you to keep up with high demands and acquire the ability to work under pressure, but still manage to produce great results.
Commercial kitchen experience will allow you to gain the skills needed to remain focused while working in a fast-paced environment, while also being involved in menu planning, for example.
Regional Produce
It's important to have some knowledge about regional produce which is available in the particular cruising ground.
This will need to be acquired for meal preparation whilst you're moving from port to port.
Work to Budgets
You'll be faced with a budget that you will need to stick to.
Hence, whatever you decide to purchase in order to prepare the meals should be well thought out, as working with budgets is not always that easy.
You need to have the confidence that despite the possible financial restrictions, you will still be able to prepare a varied menu to suit diverse guest demands.
Nutrition, Diet & Allergy Knowledge
When it comes to food preparation, it's important to be knowledgeable regarding food allergies, as well as different diets.
A chef should also be well aware of nutritional information.
Flexible Meal Planning
Considering the various guests that will be on board, not to mention crew members who will be dining on board, you will need to be able to plan meals in an efficient and knowledgeable manner.
Flexible menu planning is thus of great importance, especially since there may be times when supplies on board may not be that varied or plentiful.
Presentation Skills
Food preparation serves very little unless proper presentation is given just as much importance.
As a chef you will need to have great presentation skills as the food should look appetising and tasty at first glance.
Team Working
Having good team-working skills is also considered to be of great importance for a chef.
You will have kitchen helpers and other staff to work with and to delegate to.
Organisational Skills
As a yacht chef you will practically be the culinary manager on board.
Hence, you need to have good organisational skills to suitably plan, manage and delegate various tasks to different people working with you.
Accountancy & Computer Literacy
Other relevant skills which will always come in handy when you have a certain role include accountancy and computer literacy skills.
Typical Yacht Chef Duties
Whilst menu and meal preparation is generally considered to be the main duties of a yacht chef, it's worth pointing out that there's also other matters which such a person will be required to take care of.
Organising the kitchen or galley is another prime role of a yacht chef, and this includes provisioning, food safety and storage, hygiene, inventory and other administrative duties which will come into play for the efficient running of the kitchen.
Yacht chefs will also be focusing on presentation aspects of the meals.
While the nutritional and taste elements are of utmost importance, all chefs know that food presentation is crucial.
As a yacht chef, you'll be required to create exquisite dishes to please the guests, and whenever possible, surpass their expectations.
This is even more important if you're working on board a yacht where high net-worth or important individuals are dining, as needless to say, they will be expecting the very best.
Hence, working as a yacht chef is quite challenging.
Moreover, you will often need to be prepared to work rather long hours.
Yacht Chef Salary Ranges
| | |
| --- | --- |
| Size of Vessel | Salary Range |
| 20-40m | $4,750 - $7,000 |
| 40-60m | $7,500 |
| 60m+ | $8,750 |
| 80m+ | $8,750 - $10,500 |
Note: above monthly salary ranges shown as a guide only at the time of publication, and may not reflect actual yacht crew salary received.
Yacht chef salary ranges vary depending on the size of the vessel where they are employed, and whether prepared meals are going to be for all the guests as well as crew members.
In the case of yachts which are smaller than 50 metres, generally there will be just one yacht chef, and so they will need to take care of all meal preparations.
On the other hand, if the yacht is larger, there will be executive chefs and crew chefs working alongside the yacht chefs, with the former cooking for guests and the latter taking care of crew meal preparation.
On very large yachts exceeding 100 metres, there will generally be three or four yacht chefs on board.
It's also worth noting that in the case of rotation workers, the salary can be a bit higher than that of a yacht chef who is employed on a permanent basis.
However, generally rotational employment is not that common as the majority of yacht chefs are in permanent charter or secure private yacht jobs.
20-40m Vessel
The monthly yacht chef salary on board such a relatively small vessel is generally between $4,750 and $7,000.
40-60m Vessel
Generally the salary on board such a yacht is around $7,500 per month.
60m+ Vessel
For yacht chefs working on board a vessel of this size the salary is around $8,750 monthly.
80m+ Vessel
In the case of such relatively bigger yachts, the salary range for a yacht chef is in the range of $8,750 and $10,500 monthly.
Do Yacht Chefs Earn Tips?
Yes, just like other crew members, yacht chefs also earn tips.
A typical charter tip is around 10% of the charter fee, although this could vary from one yacht to another, and depending on the guests.
But remember, all income on board a yacht is subject to taxation.
However, if you spend a certain number of days at sea, any income earned as a yacht chef could potentially be tax free under HMRC's seafarers earning deduction rules.
The only surefire way to know this is to take a residency test, which will determine how and where you need to declare your income.
Conclusion
Culinary training and experience are important skills for any budding yacht chef.
But as discussed, there's also other skills and qualities which will help you secure such a post.
It's highly recommended that you register with some crew agencies to try to get a placement.
And always try to work on networking, showing a positive and flexible outlook, and demonstrate that you are a creative and proactive person.
These are all important for such a role. Good luck!
Contact Us
If you're curious about a career in yachting, then drop us a line.
Simply get in touch with us today or leave some feedback to our article in the comments section below.
Disclaimer: Any advice in this publication is not intended or written by Marine Accounts to be used by a client or entity for the purpose of (i) avoiding penalties that may be imposed on any taxpayer or (ii) promoting, marketing or recommending to another party matters herein.