How to Become a Yacht Deckhand
Authors

Name

Patrick Maflin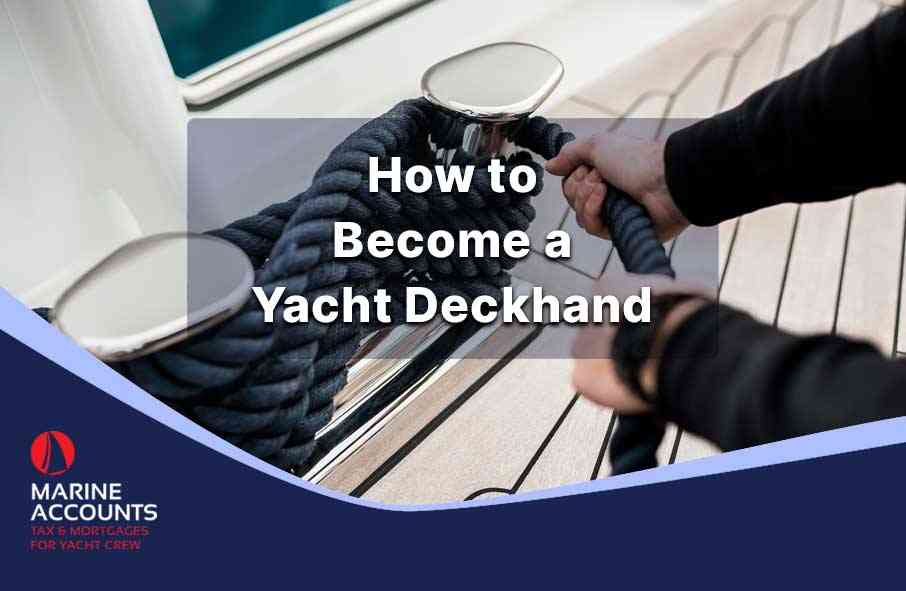 If you wish to embark on a career in yachting, your starting point is to get a job as a junior deckhand.
From then on you can hope to climb further up in the career ladder.
One thing is for sure - you need to have a positive outlook and be willing to learn and to work hard.
It may be a struggle at first, but you should never give up.
The following tips will help you set out on the right track!
---
Chapters
---
What is a Deckhand?
First of all, let us explain what the position of a deckhand actually entails.
A deckhand will mainly be responsible for the cleaning and maintenance of the yacht.
As a deckhand you will be focusing on the exterior of the yacht, and you will also be expected to assist in the various docking operations.
These include launching, stowing and driving the tenders, supervising water sports activities, as well as assisting the interior crew if the need arises.
The deckhand will be led by the bosun or lead deckhand.
On a smaller vessel, the deckhand might report directly to the captain.
Yacht Deckhand Responsibilities
A yacht deckhand's duties are quite varied, and one cannot really expect to have the same duties every day.
Duties differ according to the vessel and the program, as well as the number of deckhands present aboard the yacht.
Whenever there are guests on board, the day is bound to be longer and more diversified in terms of deckhand duties.
Typically, if a deckhand is working on a relatively small boat, there will be fewer deckhands, and so the range of duties he will be entrusted will be more diversified.
Some of the most common tasks that a deckhand will be doing include:
Cleaning
Varnishing
Painting
Polishing
Carpentry
General maintenance of yacht exteriors
Operation and maintenance of jet-skis, toys and tenders
Driving tenders and/or toys
Diving
Helping with water sports activities
Lookout duties
Yacht Deckhand Salary Ranges
| | | | | |
| --- | --- | --- | --- | --- |
| Position | 20-40m Yacht | 40-60m Yacht | 60m+ Yacht | 80m+ Yacht |
| Captain | €4,000-€10,000 | €7,000-€16,000 | €14,000+ | €16,000+ |
| 1st Officer | €3,000-€5,000 | €4,300-€5,700 | €6,000+ | €7,000+ |
| Bosun | | €3,200-€4,500 | €4,000 | €5,000 |
| Chief Stewardess | €3,000-€4,500 | €4,000-€6,000 | €6,000+ | €7,000+ |
| Senior Stewardess | €2,800-€3,000 | €2,800-€3,500 | €3,500+ | €4,500+ |
| Senior Deckhand | €2,800-€3,500 | €2,800-€4,000 | €3,500+ | €4,500+ |
| Junior Stewardess | €2,000-€3,000 | €2,000-€3,000 | €3,000+ | €3,000+ |
| Junior Deckhand | €2,000-€3,000 | €2,000-€3,000 | €3,000+ | €3,000+ |
| Chef | €3,000-€4,500 | €4,000-€7,000 | €6,000+ | €7,500+ |
As a general rule of thumb, the starting pay for a junior deckhand is around £1,500 per month.
For those who have previous experience, a monthly salary of around £2,000 could be expected.
Salaries will also vary depending on the size of the vessel you work on.
On a charter yacht for instance, deckhands can benefit from tips made by the charter guests.
The tip is normally about 10% of the charter fee.
It's also worth mentioning that as a deckhand you will be saving on living expenses.
Moreover, tips could be earned on top of your salary.
A deckhand is a great place to start a career onboard a superyacht as it offers a great way to learn about day to day operations.
You can continue to work in this role, or else progress to the position of a bosun over time.
There's also the opportunity of using it as an experience to move into other departments later on, such as the engineering or the service department.
So career progression and improvement in salary over time is very much possible.
Is Income from Yachting Tax Free?
As a crew member, you'll be spending long periods at sea.
As a result, a UK citizen may benefit from the HMRC's seafarers earnings deduction scheme.
There's certain criteria that need to be met, and if this is the case your income will be 100% free of UK income tax.
This however, greatly depends on the length of time you spend at sea outside of the United Kingdom.
But if your circumstances are right, a completely tax free salary is a real possibility.
The best way to ensure this is to take a residency test to see if you qualify.
If you're unsure of your tax position as a result of working aboard a yacht, always speak to a certified tax accountant for professional advice.
Skills & Experience
As a deckhand you will be expected to have some general seafaring skills, such as knowledge and experience in navigation, handling boats, and using radio equipment.
In reality a deckhand is not required to have any specific boating qualifications.
However, having such qualifications will be a huge advantage to you.
Further on, we discuss some qualifications which are considered as a must for such a post, as well as outline some areas and skills which can show that you have the relevant necessary experience and aptitude to be a deckhand.
Can I Become a Yacht Deckhand With No Experience?
If you never had the opportunity of working on a yacht before, it does not mean that you will never be able to get a job as a deckhand.
Needless to say, those who have past experience will have an advantage over other candidates who are still new to the industry.
However, there is always a possibility as after all there is always a first time!
There are many captains who hired crew based on their background in hospitality for instance.
At the end of the day, what really matters is that one demonstrates a good work ethic, a willingness to learn and the right attitude.
To improve your chances of getting a job as a deckhand, you can try to show any relevant skills and aptitudes, as well as follow certain courses to show that you are interested in this field and related areas.
Certification & Qualifications
ENG 1 Medical
The ENG 1 Medical is one of the main prerequisites to becoming a deckhand.
This is a medical fitness check which is a must for any seafarer, as it certifies that one is suitably physically fit enough to fulfil his duties on a sea vessel.
The ENG1 Medical assessment offers a comprehensive review of one's health and it has to be carried out by an MCA approved medical professional.
STCW Basic Safety Training
Attending an STCW Basic Safety Training course is a must for any member of the crew.
This course equips those who are just starting out in the yachting industry with a good understanding of technical knowledge, and to be able to respond accordingly in the case of an emergency situation at sea.
Such a course comprises key training aspects such as personal survival techniques, fire prevention and fire fighting, security awareness and first aid.
The STCW course typically takes place over a period of five consecutive days.
The STCW certification will need to be renewed every five years.
Previous Experience
Previous experience is always preferable, but if you're starting out for the first time, you cannot really excel in this aspect.
However, even if you never worked on a yacht, or even had the opportunity to land some daywork, you can focus on key transferable skills which you may have obtained from other jobs or activities that you were involved in.
These could include any water sports experiences, or tender driving, for example.
Another good idea is to try to find a job that is in some way related to the boat building or maintenance field.
This could include painting boats, learning about teak, or something that could show that you have a flair to learning.
In truth, anything that involves mechanics, cleaning or water sports activities could work well.
How to Find Work as a Yacht Deckhand
The following tips should help you find work as a deckhand.
Update Your CV
It's very important to write a CV that demonstrates you are an ideal candidate for a deckhand position.
Make sure to include your personal details and to focus on the experience and qualifications that can be considered as relevant for such a post.
These should include any experience in the hospitality industry, and anything that is related to water sports, outdoor activities, boating, carpentry, maintenance work and engineering.
Prepare for Interviews
Be well prepared for interviews.
Consider the best way to present yourself as the right candidate, and prepare some answers to commonly asked questions.
Make sure to do your homework by researching and getting informed about the industry and related aspects.
You need to demonstrate that you are aware of key areas and that you are the kind of person who is willing to learn and adapt.
Make sure to be smart and appear confident, while always answering politely.
Register at Yachting Agencies
There are various recruitment agencies that you can register with.
Check them out online and register with them by completing their respective registration forms.
Go Dockwalking
Dockwalking is a great way to improve your chances of finding a job on a yacht.
When dockwalking you will be presenting yourself personally at various yachts, and this will show that you have initiative and willingness.
Make sure to choose the best possible spots for dockwalking and dress in a smart but practical way.
There are certain times of day when best to go dockwalking, and other times which you should avoid.
Also, never approach a yacht if you notice there are guests on board.
Bear in mind that most yachts will recruit between February and May, so this may be the best time to set out dockwalking.
Find Daywork
A great way to improve your chances of getting a job as a deckhand is to look for daywork.
This can be greatly facilitated if you make the most of the Dayworker app.
This app offers you the possibility of finding daywork in your vicinity, and there is even the facility of locating and arranging for accommodation in a vast network of crew houses.
Suitable opportunities can be found as soon as you enter your location and availability, and you will be able to benefit from some great daywork opportunities to enrich your CV in no time.
Adapt & Learn
Adaptation and a willingness to learn are key skills to have as a prospective crew member.
You should make it a point to show that you are this kind of person during the interview or while you go dockwalking because these will give you an advantage for sure.
Working on a sea vessel is demanding, and hence only people who are willing to learn and with a keen sense of not giving up are ideal candidates.
Conclusion
If you're a person who loves life at sea and traveling, working as a deckhand can be a great career choice.
By following the guidelines and tips discussed here you can improve your chances of landing such a job, and kick start your yachting career.
Contact Us
If you're curious about a career in yachting, we want to hear from you.
Simply get in touch with us today or let us know your thoughts in the comments section below.
Disclaimer: Any advice in this publication is not intended or written by Marine Accounts to be used by a client or entity for the purpose of (i) avoiding penalties that may be imposed on any taxpayer or (ii) promoting, marketing or recommending to another party matters herein.