How to Get A Job Aboard a Superyacht
Authors

Name

Patrick Maflin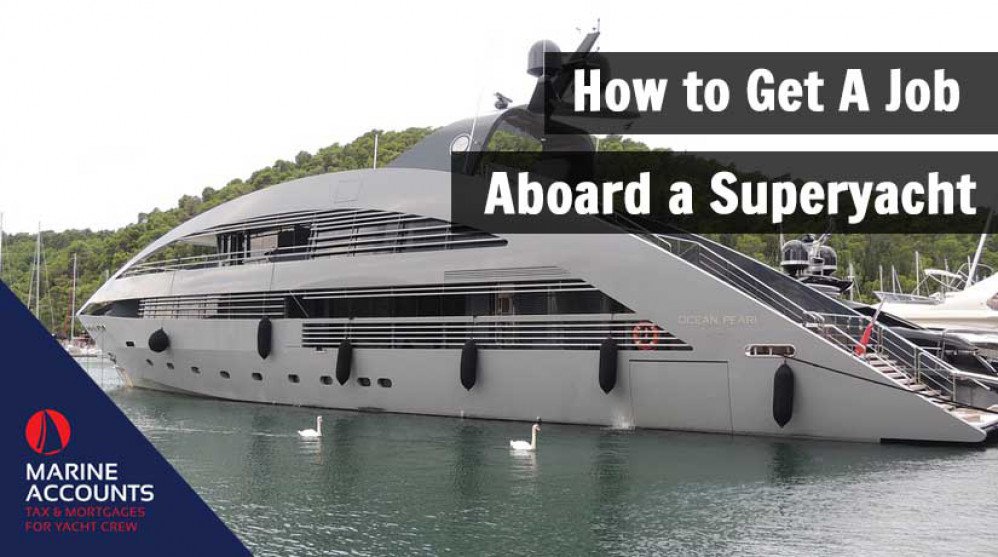 Image source: https://pixabay.com/photos/waters-travel-luxury-yacht-3090902/
A career on a superyacht can be one of the most exciting, eye-opening and lucrative experiences one can have.
But understanding where and how to get into such a unique employment opportunity takes knowledge and skills, as well as the right personality and attitude.
In this article we explore a first-hand story of how one of our team entered the world of superyacht employment and what you can expect.
Read on to learn more or hit a link listed below to skip to a chapter of your choosing:
---
Chapters
---
Routes into a Superyacht Job
Broadly speaking there are three routes into starting a career in yachting.
The first is undertaking a cadetship at a Maritime college, and this is undoubtedly where a significant portion of today's officers & engineers originate from.
Yet there are also other lesser known routes in, so what are these?
Certainly for engineers a clear route in is an engineering apprenticeship at a shipyard.
Pendennis Shipyard for example. offers this type of apprenticeship.
The less obvious and slightly more adventurous route is for those who choose to pack their bags and fly out to one of the many yachting hubs, such as Palma, Mallorca.
You start by dock walking and work your way up from the role of dayworker.
This definitely gives the industry its unique character compared to merchant shipping, and long may it remain.
There are a few websites online where you can register to find daywork in the yachting industry.
Image source: https://pixabay.com/photos/yacht-superyacht-super-yacht-boat-782488/
Career Choices
Once you've secured your first position onboard a ship, you need to decide whether you want to make a career out of yachting or simply pay off some debts and return home.
Those who choose to make a career of it have a fantastic opportunity to set themselves up very well for the future.
However there are still many 'yachties' who spend it as quickly as they earn it!
The first yacht that I worked on had a message written on one of the bulkheads which has always stuck with me:
'Get rich, get fit & get out'
I wouldn't say I am rich, but my 12 years in yachting certainly gave way to opportunities which allowed me to live the comfortable life I now have.
So what did I do to enable this?
It all started in a Shipyard in Faversham, Kent where I learnt how to build boats.
I was lucky enough to get offered a position after only a few months on a classic motor yacht in the South of France that the yard had recently restored.
While I worked at the yard, I also studied for my YachtMaster through adult education.
It is important to further your studies while in yachting and gain additional tickets.
It is now a legal requirement for anyone working on a vessel over a 24m load line length to have their STCW Certification.
There are a number of Maritime Academies offering this course, examples being:
Saving & Investing
Once I had secured a job I started saving towards buying my first property.
I first established what my credit rating was and then set out to improve this in order to secure a mortgage.
It is important when making investments to have a mixed asset class and property is always something I have favoured.
Image source: https://pixabay.com/photos/yacht-superyacht-super-yacht-boat-782487/
Choosing a Vessel
At the same time as focusing on my financial future, I also gave time to consider my career.
There are many different departments on a yacht; interior, deck and engineering all being examples of these.
My focus was always on making it to the rank of Captain, so I chose the deck route.
You need to be careful when choosing the vessel that you work on.
There are two options; Motor or Sail.
There are considerably more motor yachts in the industry, but for a sailing enthusiast like myself, sail was the only option.
Secondly, do you pick charter or private?
Charter vessels tend to be busier and the renumeration package is better as you receive tips.
Although after one season you may opt for the slightly quieter life of a private yacht.
Income Tax
It is no secret that working on yachts pays well and many people are drawn to it in the belief that it is tax free.
However, this is very often not the case and it is advisable to confirm this by seeking professional advice.
You will often find in your contract of employment statements such as the one below:
1.5 The Employee assumes the responsibility to meet his own personal tax and social security or similar liabilities in terms of the laws of his country of residence.
Furthermore the employee shall indemnify the Employer for and in respect of payment of any income tax, social security contributions and any other similar liabilities arising from or made in connection with any payment or benefit received by the Employee in accordance with the terms of this Agreement.
The Employer recommends that the Employee seeks appropriate professional advice in order to establish his personal liability in these matters, which he accepts to be his sole responsibility.
No deductions will be made by the Employer in respect of any liabilities that the Employee may have regarding personal taxation, social security or other matters in the country of his domicile or residence, or other administration unless there is salutatory obligation to do so, of which the Employer is made aware of.
Image source: https://pixabay.com/photos/accountant-accounting-adviser-1238598/
Building Up Sea Time
It is important when starting out, that you work on a yacht that allows you to build up sea-time.
Sea time is essential if you want to qualify as a Master or Chief Engineer as all qualifications/tickets are contingent on this.
If you work on a vessel that rarely goes to sea, it will take you a lot longer to become fully qualified.
Conclusion
The yachting world is amazing and full of dynamic individuals.
It can be hard at times when you are constantly away from friends and family.
What is amazing is arriving into port and being able to immediately find yourself surrounded by people you know.
I would recommend this industry to anyone who is looking for excitement, new experiences and something slightly out of the ordinary.
Yachting provided me with a fantastic career for over 12 years.
It also enabled me to go launch the businesses that I now run and undoubtedly without this industry, I would not be where I am today.
Speak to Us or Comment!
If you are just starting out in the yachting industry or are thinking of becoming a yachtie and need advice on local income tax laws, we would like to hear from you. Get in touch with us today or let us know your thoughts in the comments section below.
---
---
Any advice in this publication is not intended or written by Marine Accounts to be used by a client or entity for the purpose of (i) avoiding penalties that may be imposed on any taxpayer or (ii) promoting, marketing or recommending to another party matters herein.