Yachting Agencies - Where to Find Superyacht Crew Jobs
Authors

Name

Patrick Maflin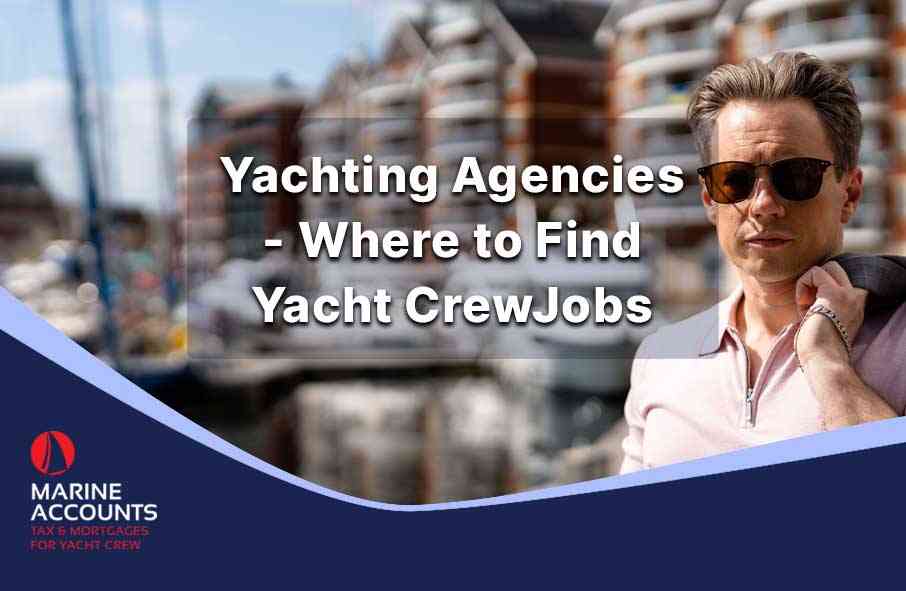 Imagine gliding effortlessly across crystal-clear waters.
The world of yachting offers a unique and enticing career path.
It allows individuals to blend their passion for adventure, luxury, and the open sea into a rewarding and potentially tax free profession, if you qualify for the seafarers earnings deduction.
Beyond its glamorous allure, a career in yachting presents a remarkable opportunity.
It allows you to embark on a journey filled with excitement, personal growth, and endless possibilities.
Yachting agencies bridge job seekers and yacht owners, ensuring a seamless connection that brings dreams to life.
They deeply understand the industry's intricacies and maintain extensive networks encompassing yacht charters, yacht management companies, and private owners.
---
Chapters
---
Worldwide Yachting Agencies
We have compiled a list of yachting agencies you can approach to kickstart your career.
Yachting Agencies in America
Crew Network
800 Southeast 10th Avenue, Suite 400, Fort Lauderdale, FL 33316 USA
Telephone: +1 954 467 9777
Website: crewnetwork.com
Elite Crew
2400 Hiatus Rd, Davie, FL 33325 USA
Telephone:1-954-522-4840
Website: elitecrewintl.com
Luxury Yacht Group
101 SE 14th Street Fort Lauderdale, FL 33316 USA
Telephone: +1 (954) 525-9959
Website: luxyachts.com
Viking Crew
1845 Cordova Road, Suite 206, Fort Lauderdale, FL 33316 USA
Telephone: +1 754 200 4858
Website: vikingcrew.com
---
Yachting Agencies in Asia
Amandira
Aman Regional Office, 72 Club Street, #01-01 Singapore 069471
Telephone: +65 6883 2555
Website: amandira.com
Asia Pacific Superyachts
75, Jawaharlal Nehru Road, II Floor, Durga Prasad Bhawan, Above A & N State Co-operative Bank, Haddo, Port Blair India 744102
Telephone: +91 9932089595
Website: asia-pacific-superyachts.com
Camper & Nicholsons Asia
Office B, Ground Floor, Building C6, Marina Views, Mina Rashid, Dubai United Arab Emirates
Telephone: +971 (0)42 67 75 88
Website: camperandnicholsons.com
---
Yachting Agencies in Australia
Champion Crewing & Concierge - Yacht Crew Agency & Shore Support
Coral Sea Marina (South, Shingley Dr, Airlie Beach QLD 4802 Australia
Telephone: +61 435 839 804
Website: championcrewing.com
Crew Pacific
2B/117 Anderson Street, Manunda, (Enter via McCormack Street), North Cairns 4870, Queensland Australia
Telephone: + 61 (0) 407 789 527
Website: crewpacific.com.au
MYS Superyacht Crew
2 Maritime Court, Rozelle NSW 2039 Australia
Telephone: +61 2 9555 4421
Website: myssuperyachtcrew.com
Superyacht Recruitment
PO Box 115 Burswood WA 6100 Australia
Telephone: +61 419924799
Website: ayc.com.au
---
Yachting Agencies in France
Bluewater Yachting
14-18 Avenue, Mirabeau, 06600 Antibes France
Telephone: +34 971 677 154
Website: bluewateryachting.com
---
Yachting Agencies in Canada
Yacht Crew Register
Telephone: +1 954-762-7628
Website: yachtcrew.ca
---
Yachting Agencies in Germany
Lighthaus-Marine GmbH
Kattrepel 2, 20095 Hamburg Germany
Telephone: +49 40 228665780
Website: lighthaus-marine.eu
Yacht Skipper
Lange Str. 23, 20359 Hamburg Germany
Telephone: +49 176 96150247
Website: yachtskipper.eu
---
Yachting Agencies in Italy
Ship & Crew Services S.r.l.
Via Fieschi, 8/5, 16121 Genova GE Italy
Telephone:+39 010 899 1080
Website: scsyachting.com
The Crew Network - Viareggio
Via Michele Coppino, 435, 55049 Viareggio LU Italy
Telephone: +39 0584 395474
Website: fraseryachts.com
YPI Crew
6 Avenue de la Libération, 06600 Antibes
Telephone: +33 4 92 90 46 10
Website: ypicrew.com
---
Yachting Agencies in New Zealand
Crew Network Auckland
Telephone: +64 9 302 0178
Website: crewnetwork.com
NZ Marine Industry Association
448, Victoria Street West, Auckland 1142
Telephone: +64 (0)9 360 0056
Website: nzmarine.com
Yachting Agencies in Spain
Crew & Concierge
Telephone: +34 608228242
Website: crewandconcierge.com
Fred Dovaston
Telephone: +34 971 67 73 75
Website: dovaston.com
Van Allen Crew Agency
Leticia Van Allen SL, Palma de Mallorca Spain
Telephone: +34 670 532 773
Website: vanallencrew.com
---
Yachting Agencies in United Kingdom
Clyde Marine Recruitment
Mariner House Watermark Business Park 355 Govan Rd, Glasgow G51 2SE United Kingdom
Telephone: 0141 427 6886; 0141 427 6928
Website: clyderecruit.com
Crewbay
8 Newtown, Sidmouth EX10 8QF United Kingdom +44 (0) 117 939 3747
Website: crewbay.com
Crewseekers
Crewseekers Ltd, Tollgate, Chandler's Ford, Eastleigh, SO53 3LG United Kingdom
Telephone: +44 (0) 14 89 57 83 19
Website: crewseekers.net
Dohle (Vantage Yacht Crew)
Fort Anne, South Quay, Douglas, Isle of Man, IM1 5PD British Isles
Telephone: +44 (0) 1624 653 080
Website: dohle-yachtcrew.com
Greycoat Placement Ltd
Greycoat Lumleys London Corporate
Telephone: +44 (0) 20 72 33 99 50
Website: greycoatplacements.co.uk
Hutchinson
Hutchinson's Domestic Staff, Penhurst House, 352-356 Battersea Park Road, London, SW11 3BY United Kingdom
Telephone: +44 (0) 20 75 81 00 10
Website: hutchinsons-staff.com
Seagem International
Telephone: +44 (0) 12 02 42 23 41
Website: seageminternational.com
Viking Recruitment Ltd
Viking House, Menzies Road, Dover, Kent, CT16 2FG United Kingdom
Telephone: +44 (0) 13 04 24 08 81
Website: vikingrecruitment.com
Wilsonhalligan
Elan House, 5a Little Park Farm Road, Fareham, Hampshire PO15 5SJ United Kingdom
Telephone: +44 (0) 23 80 45 86 52
Website: wilsonhalligan.com
Yacht Chefs
Telephone: +44 20 30 06 26 08
Website: yachtchefs.com
How to Find Yacht Crew Jobs
If you're interested in finding a yacht crew job, here are some ways you can start your search:
Online Job Portals
Utilise popular job search websites and online portals specialising in maritime or crew jobs.
Websites like Sea Careers, Indeed, All Cruise Jobs, and Monster can help you find relevant opportunities.
Use keywords such as "crew jobs," "maritime jobs," or specific positions like "deckhand," "steward," or "yacht captain" to narrow down your search.
Dayworker App
Dayworker is a mobile app connecting people who need help with crew jobs with people looking for work in the yachting industry.
It is available in both the App Store and Google Play.
To use Dayworker, you first need to create an account.
Once you have created an account, you can browse the available crew jobs in your area.
You can filter the jobs by location and date.
Networking
Network with people already working in the maritime industry or crew positions.
Attend job fairs, industry conferences, or events where you can meet professionals in the field.
Join online forums, social media groups, and communities focused on maritime careers.
Networking can help you learn about job opportunities that may be less widely advertised.
Maritime Training Institutions
Contact maritime training organisations, academies, or schools that offer courses or certifications related to crew positions.
These institutions often have industry connections and can assist with job placements or provide guidance on finding relevant job openings.
Professional Associations & Unions
Explore professional associations and unions related to the maritime industry.
They can provide valuable resources, job listings, and networking opportunities.
Joining such organisations can help you stay updated on industry trends and connect with potential employers.
How to Get a Job on a Yacht
If you're interested in embarking on a career in yachting, there are several steps you can take to get started.
First and foremost, gaining relevant skills and certifications is essential.
Acquiring certifications like the STCW Basic Safety Training and engaging in specialised training will demonstrate your commitment and competency.
Additionally, researching different roles within the yachting industry and identifying your preferred position will help guide your efforts.
Building experience through internships, volunteering, or starting in entry-level positions will enhance your practical skills and increase your chances of landing a job.
Crafting a professional yachting resume that highlights your qualifications and experience is crucial when approaching crew agencies and potential employers.
Networking within the industry, attending events, and registering with reputable crew agencies can provide valuable connections and job opportunities.
To learn more about how to get into yachting, checkout our blog which offers insightful guidance on pursuing a career in this exciting field.
Frequently Asked Questions
What is the Easiest Job on a Yacht?
The most straightforward job on a yacht is typically considered a steward/ess, responsible for housekeeping and guest services, although all roles require hard work and dedication.
How Do You Get a Job on a Yacht with No Experience?
To get a job on a yacht without experience, obtain relevant certifications like STCW Basic Safety Training.
Network, apply to entry-level positions, and emphasise transferable skills such as customer service or hospitality in your resume.
Is it Easy to Get a Yachting Job?
Obtaining a yachting job can vary in difficulty depending on factors such as your experience, qualifications, networking abilities, and industry demand.
Entry-level positions may be more accessible, but higher-ranking posts require more experience and specialised skills.
Persistence, networking, and acquiring relevant certifications can increase your chances of securing a yachting job.
Conclusion
In conclusion, yachting agencies are crucial in connecting aspiring crew members with superyacht job opportunities.
These agencies are valuable resources for finding crew jobs, providing guidance throughout hiring, and matching individuals with suitable positions.
Whether you're a seasoned professional or just starting your yachting career, working with reputable agencies can enhance your chances of securing a dream job on a superyacht.
To learn more about the yachting industry and how to navigate the world of taxation in superyacht crew jobs, contact us for advice from industry experts.
Contact Us
If you have questions about a career in yachting, drop us an email!
Simply get in touch with us today or let us know your thoughts in the comments section below.
Disclaimer: Any advice in this publication is not intended or written by Marine Accounts to be used by a client or entity for the purpose of (i) avoiding penalties that may be imposed on any taxpayer or (ii) promoting, marketing or recommending to another party matters herein.